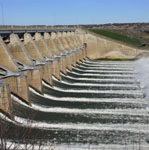 The spring of 2011 brought the highest water levels since the flood of 1952 and the greatest runoff volume since the Corps of Engineers began keeping records in 1898.
To view comparison photos along the Missouri National Recreational river, click on the maps or text links below.

Note: CFS volumes indicated on the photos represent releases from Fort Randall or Gavins Point dams and do not include contributions of tributaries below the dams.