Superintendent's Compendium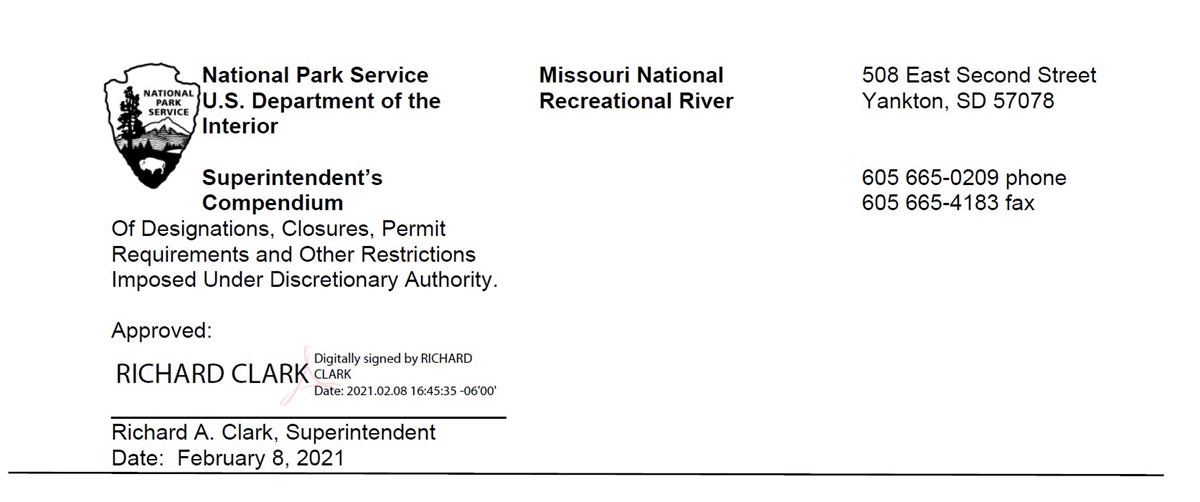 National Park Service
U.S. Department of the Interior
Superintendent's Compendium of Designations, Closures, Permit Requirements and Other Restrictions Imposed Under Discretionary Authority.

Missouri National Recreational River
508 East Second Street
Yankton, SD 57078
605 665-0209 phone 605 665-4183 fax

Approved: 02/08/2021
Richard A. Clark, Superintendent

INTRODUCTION
Superintendent's Compendium Described
The Superintendent's Compendium is the summary of park specific rules implemented under 36 Code of Federal Regulations (36 CFR). It serves as public notice, identifies areas closed for public use, provides a list of activities requiring either a special use permit or reservation, and elaborates on public use and resource protection regulations pertaining specifically to the administration of the park. The Superintendent's Compendium does not repeat regulations found in 36 CFR and other United States Code and CFR Titles, which are enforced without further elaboration at the park level.

The regulations contained in 36 CFR, Parts 1-7, are the basic mechanism used by the National Park Service (NPS) to preserve and protect the natural and cultural resources of the park and to protect visitors and property within the park. Parts 1 through 6 are general regulations applicable to all areas of the National Park system, and Part 7 contains special regulations specific to individual parks. Each of these Parts has many sections and subsections articulating specific provisions. Within some of these Part 1-7 sections and subsections, the Superintendent is granted discretionary authority to develop local rules to be responsive to the needs of a specific park resource or activity, park plan, program, and/or special needs of the general public.
As an example, 36 CFR 1.5(a) Closures and Public Use Limits provides the Superintendent certain discretion in allowing or disallowing certain activities. The authority granted by the Section, however, requires the Superintendent to comply with the Administrative Procedures Act (6 USC Section 551), which requires public notice on actions with major impact on visitor use patterns, park resources or those that are highly controversial in nature.

Another example is 36 CFR 1.6 Permits, which allows the Superintendent to require a permit for certain uses and activities in the park. This Section, however, requires that a list of activities needing a permit (and a fee schedule for the various types of permits) be maintained by the park.

A final example is 36 CFR 2.1(c) (1) Preservation of Natural, Cultural and Archeological Resources, which provides the Superintendent the authority to designate certain fruits, nuts, berries or unoccupied seashells which may be gathered by hand for personal use or consumption. This activity can occur, however, only if a written determination shows that the allowed activity does not adversely affect park wildlife, the reproductive potential of a plant species, or otherwise adversely affect park resources.

This Compendium should be used in conjunction with Title 36 CFR, Parts 1-7, to more fully understand the regulations governing the use and enjoyment of all the areas of the national Park System.

A copy of Title 36, CFR, can be purchased from the U.S. Government Printing Office at:
Superintendent of Documents
P.O. Box 371954
Pittsburgh, PA 15250-7954

The CFR is also available on the Internet at: http://www.access.gpo.gov/nara/cfr/waisidx_05/36cfrv1_05.html
Laws and Policies Allowing the Superintendent to Develop This Compendium
On December 2014, H.R. 1068 was signed into law (P.L. 113-287), which codifies National Park Law under the new Title 54. This bill repealed several previous laws, including the NPS Organic Act; is now found at 54 U.S.C. 100301.

The National Park Service (NPS) is granted broad statutory authority under 16 United States Code (U.S.C.) Section 1 et.seq. (Organic Act of 1916, as amended) to "…regulate the use of the Federal areas known as national parks, monuments, and reservations…by such means and measures as conform to the fundamental purposes of the said parks…which purpose is to conserve the scenery and the natural and historic objects and the wildlife therein and to provide for the enjoyment of the same in such manner and by such means as will leave them unimpaired for the enjoyment for future generations" (16 U.S.C. Section 1). In addition, the NPS Organic Act allows the NPS, through the Secretary of the Interior, to "make and publish such rules and regulations as he may deem necessary or proper for the use and management of the parks, monuments, and reservations under the jurisdiction of the National Park Service" (16 U.S.C. Section 3).

In 1970, Congress amended the NPS Organic Act to clarify its intentions as to the overall mission of the NPS. Through the General Authorities Act of 1970 (16 U.S.C. Sections 1a1-1a8), Congress brought all areas administered by the NPS into one National Park System and directed the NPS to manage all areas under its administration consistent with the Organic Act of 1916.

In 1978, Congress amended the General Authorities Act of 1970 and reasserted System-wide the high standard of protection defined in the original Organic Act by stating "Congress further reaffirms, declares, and directs that the promotion and regulation of the various areas of the National Park System, as defined by Section 1 of this Title, shall be consistent with and founded in the purpose established by Section 1 of this Title, to the common benefit of all people of the United States."

54 U.S.C. 100102 defines the National Park System as"…any areas of land and water now or hereafter administered by the Secretary of the Interior through the National Park Service for park, monument, historic, parkway, recreational, or other purposes."

In addition to the above statutory authority, the Superintendent is guided by established NPS policy as found in the NPS Management Policies (2006). The Superintendent is also guided by more specific policies promulgated by the Director, National Park Service, in the form of Director's Orders. As stated in the Management Policies, the primary responsibility of the NPS is to protect and preserve our national natural and cultural resources while providing for the enjoyment of these resources by visitor and other users, as long as use does not impair specific park resources or overall visitor experience. The appropriateness of any particular visitor use or recreational experience is resource-based and will vary from park to park; therefore, a use or activity that is appropriate in one park area may not be appropriate in another. The Superintendent is directed to analyze overall park use and determine if any particular use is appropriate. Where conflict arises between use and resource protection, where the Superintendent has a reasonable basis to believe a resource is or would become impaired, than that Superintendent is obliged to place limitations on public use.
Consistency of This Compendium with Applicable Federal Law and Requirements
The Superintendent's Compendium is not considered a significant rule requiring review by the Office of Management and Budget under Executive Order 12866. In addition, this Compendium will not have a significant economic effect on a number of small entities nor impose a significant cost on any local, state or tribal government or private organization, and therefore does not fall under the requirements of either the Regulatory Flexibility Act or the Unfunded Mandates Reform Act.

The actions and requirements described in this Compendium are found to be categorically excluded from further compliance with the procedural requirements of the National Environmental Policy Act (NEPA) in Department of the Interior (DOI) Guidelines 516 DM 6 and as such, an Environmental Assessment will not be prepared.
Development of the Requirements of the Superintendent's Compendium
As outlined above, the NPS has broad authority and responsibility to determine what types of uses and activities are appropriate in any particular National Park System area. The requirements of the Superintendent's Compendium are developed through an analysis and determination process. The decision criteria used during this process are:
Is there use or activity consistent with the NPS Organic Act and NPS policy?
Is the use or activity consistent and compatible with the park's enabling legislation, management objectives, and corresponding management plans?
Will the use or activity damage the park's protected natural and cultural resources and other protected values?
Will the use or activity disturb or be in conflict with wildlife, vegetation, and environmental protection actions and values?
Will the use or activity conflict with or be incompatible with traditional park uses and activities?
Will the use or activity compromise employee or public safety?
Applicability of the Compendium
The rules contained in this Compendium apply to all persons entering, using, visiting or otherwise present on federally owned lands, including submerged lands, and waters administered by the NPS within the legislative boundaries of the park. This includes all waters subject to the jurisdiction of the United States, including all navigable waters. These rules do not apply on non-federally owned lands and waters unless there is a written instrument with the property owner.
Enforcement of Compendium Requirements
NPS Law Enforcement Park Rangers enforce the requirements of the United State Code, 36 CFR, and this Superintendent's Compendium.
Penalties for Not Adhering to the Compendium Requirements
A person who violates any provision of the regulations found in 36 CFR, Parts 1-7, or provisions of this Compendium, is subject to a fine as provided by law (18 U.S.C. 3571) up to $5,000 for individuals and $10,000 for organizations, or by imprisonment not exceeding six months (18 U.S.C. 3559), or both, and shall be adjudged to pay all court costs associated with any court proceedings. You may receive a list of fines associated with any particular provision by contacting the Superintendent at the park address found below.
Comments on the Compendium
The Compendium is reviewed annually and revised as necessary. The park welcomes comments about its program and activities at any time.

Written comments on the Compendium may be submitted to:
Superintendent
508 East Second Street
Yankton, SD 57078
Effective Date of the Superintendent Compendium
The Superintendent's Compendium is effective on the approval date listed on the first page of this document, and remains in effect until revised for a period up to one year.
Additional Information
Some of the terms used in this Compendium may have specific meaning defined in 36 CFR 1.4 Definitions.
Availability
Copies of the Compendium are available at 508 East Second Street, Yankton, SD 57078. It may also be found at www.nps.gov/mnrr.
SUPERINTENDENT'S COMPENDIUM
In accordance with regulations and the delegated authority provided in
Title 36, Code of Federal Regulations ("36 CFR"), Chapter 1
, Parts 1-7, authorized by Title 16 United States Code, Section 3, the following provisions apply to all lands and waters administered by the National Park Service, within the boundaries of Missouri National Recreational River. Unless otherwise stated, these regulatory provisions apply in addition to the requirements contained in 36 CFR, Chapter 1, Parts 1-7.
Written determinations, which explain the reasoning behind the Superintendent's use of discretionary authority, as required by Section 1.5(c), appear in this document identified by italicized print.
I. 36 CFR §1.5 - CLOSURES AND PUBLIC USE LIMITS
(a)(1) The following visiting hours and public use limits are established for all or for the listed portions of the park, and the following closures are established for all or a portion of the park to all public use or to a certain use or activity:
Visiting Hours
Park Headquarters: Monday - Friday, 8 a.m. to 4:30 p.m.

Mulberry Bend- dawn to dusk

Bow Creek and Green Island- dawn to dusk unless engaged in overnight camping
Closures
All NPS owned lands of the park are closed to horses and pack animals
Determination: The composition of the soil, terrain, and limited acreage do not allow for the mix of horses and hikers.
Limitations
Given the ongoing COVID-19 pandemic and associated threat to public health, including rates of contraction, the following restrictions are imposed on activities within park areas for the maintenance of public health and safety during the COVID-19 pandemic.
Individuals over the age of two years must wear masks, except when actively eating or drinking, in the following locations:
All common areas and shared workspaces in buildings owned, rented or leased by the National Park Service, including, but not limited to, park visitor centers, administrative offices, maintenance facilities, concession facilities and all park restrooms.

Masks must cover the nose and mouth and fit snugly around the nose and chin with no large gaps around the sides of the face. Masks not designed to be protective, masks with ventilation valves, and face shields do not meet the requirement.

This restriction applies to NPS employees, volunteers, partners and contractors and all park visitors.
The preventative measure of wearing face masks as outlined above will remain effective until such time as the COVID-19 pandemic abates as declared by the CDC and/or as may be rescinded per Departmental or agency policy.

Determination: On January 20, 2021, the President signed Executive Order 13991, Protecting the Federal Workforce and Requiring Mask-Wearing (E.O. 13991). As stated in E.O. 13991, it is the policy of the Administration to halt the spread of coronavirus disease 2019 (COVID–19) by relying on the best available data and science-based public health measures. Such measures include wearing masks when around others, physical distancing, and other related precautions recommended by the Centers for Disease Control and Prevention (CDC).

On January 24, 2021, the Office of Management and Budget issued M-21-15, COVID-19 Safe Federal Workplace: Agency Model Safety Principles to provide guidance to federal agencies on implementing E.O. 13991. M-21-15 contains model safety principles that apply CDC guidelines related to mask-wearing and physical distancing to the federal workplace.

On January 29, 2021, the Acting Secretary of the Interior issued a memorandum entitled Protecting Our Workforce by Requiring Mask-Wearing. This memorandum reaffirmed the Administration's commitment to an urgent, robust, and professional response to the COVID-19 pandemic. The Memorandum requires all onsite employees, contractors, and volunteers to wear a mask or face covering at all times while in Department buildings or on federal public lands when physical distancing of 6 feet or more is not possible.

On February 2, 2021 the National Park Service Deputy Director, Operations issued a memo Implementing Executive Order No. 13991: Protecting the Federal Workforce and Requiring Mask-Wearing that gave further direction to park superintendents.

Tree stands and hunting blinds during hunting season (s), as established in accordance with either the South Dakota Department of Game, Fish & Parks and the Nebraska Game & Parks Commission as applicable:

No more than one tree stand or blind per hunter.
Name, address, and phone number of the owner or user must be posted in plain view on the stand or blind and be legible and visible from the ground.
Other elevated platforms not attached to a tree must also conform to the specified dates and labeling requirement.
Permanent tree stands and climbing devices are prohibited.
Determination: Construction of a permanent hunting stand or blind or staking claim to public islands and sandbars would amount to private use of public property and must be prohibited to protect equal public access and enjoyment.
The use of set lines (unattended bank lines) are permitted, as established and in accordance with South Dakota and Nebraska fishing regulations, with the following exceptions:

Set lines are prohibited within 200 feet of public boat landings or swimming areas.
Determination: The South Dakota Game, Fish, and Parks Commission declares it necessary to treat catfish from inland waters of the Missouri River as rough fish in order to maintain desired population levels. Additionally, the use of set lines on the Missouri and Niobrara Rivers has been historically used as a method for controlling rough fish species in Nebraska. This historic practice has been underway for at least four decades and predates the Missouri National Recreational River becoming a unit of the National Park System and component of the National Wild and Scenic Rivers System. The use of set lines adjacent to public landings and/or designated (cordoned off and/or signed/posted) swimming areas is prohibited to reduce the possibility of damage to equipment, or injury to others.
Launching, landing, or operating an unmanned aircraft from or on lands and waters administered by the National Park Service within the boundaries of Missouri National recreational River is prohibited except as approved in writing by the superintendent.
Definition: The term "unmanned aircraft" means a device that is used or intended to be used for flight in the air without the possibility of direct human intervention from within or on the device, and the associated operational elements and components that are required for the pilot or system operator in command to operate or control the device (such as cameras, sensors, communication links.) This term includes all types of devices that meet this definition (e.g. model airplanes, quadcopters, drones) that are used for any purpose, including for recreation or commerce.
Determination: Until the NPS can determine whether specific uses of unmanned aircraft are appropriate and will not cause unacceptable impacts on park resources and values, Missouri National Recreational River is closed to the use of these devices. The use of unmanned aircraft within the boundaries of Missouri National Recreational River has the potential to negatively impact the privacy of adjacent landowners along the river, including potentially creating a corridor of immunity over the water where adjacent landowners that did not want unmanned aircraft to operate would not be able to exclude these devices. It should be noted however, that this action does not prohibit an adjacent landowner from operating an unmanned aircraft on their property. Unmanned aircraft could harm visitors, disturb wildlife, impact viewsheds, cause excessive noise, and interfere with other visitors' enjoyment of the area.
This closure is being implemented as an interim measure while this new use can be properly evaluated. A less restrictive approach is not appropriate at this time due to the impacts the devices could potentially present to visitor safety, park values, and to park resources. The interim closure will safeguard these values while the NPS considers how to address this new use on a long-term basis.

(a) (2) - "e-bike" restricted use: The term "e-bike" means a two- or three-wheeled cycle with fully operable pedals and an electric motor of less than 750 watts (1 h.p.). E-bikes are allowed in the Missouri National Recreational River where traditional bicycles are allowed. E-bikes are prohibited where traditional bicycles are prohibited. Except where use of motor vehicles by the public is allowed, using the electric motor to move an e-bike without pedaling is prohibited. A person operating an e-bike is subject to the following sections of 36 CFR part 4 that apply to the use of traditional bicycles: sections 4.12, 4.13, 4.20, 4.21, 4.22, 4.23, and 4.30(h)(2)-(5). Except as specified in this Compendium, the use of an e-bike within the Missouri National Recreational River is governed by State law, which is adopted and made a part of this Compendium. Any violation of State law adopted by this paragraph is prohibited.
II. 36 CFR §1.6 - PERMITS
(f) The following is a compilation of those activities on waters administered by and lands owned or administered by the NPS, within the boundaries of Missouri National Recreational River for which a permit from the superintendent is required. These do not apply to lands within the Missouri National Recreational River authorized boundary owned and managed by private individuals or organizations, or other state or federal agencies.
§2.5(a) Specimen collection (Take plant, fish, wildlife, rocks or minerals) - Removal of wildlife for purposes other than those under legal hunting, fishing or trapping as regulated through Nebraska and South Dakota state laws and regulations.
§2.12 Audio Disturbances:
(a)(3) Operation of any type of portable motor or engine, or device powered by a portable motor or engine in non-developed areas.
(a)(4) Operation of a public address system in connection with a public gathering or special event for which a permit has been issued pursuant to §2.50 or §2.51.
§2.17 Aircraft & Air Delivery:
(a)(3) Delivery or retrieval of a person or object by parachute, helicopter or other airborne means.

(c)(1) Removal of a downed aircraft.
§2.37 Soliciting or demanding gifts, money goods or services (Pursuant to the terms and conditions of a permit issued under §2.50, §2.51 or §2.52).
§2.38 Explosives:
(a) Use, possess, store, transport explosives, blasting agents.

(b) Use or possess fireworks.
§2.50(a) Conduct a sports event, pageant, regatta, public spectator attraction, entertainment, ceremony, and similar events.
§2.51 (a) Public assemblies, meetings, gatherings, demonstrations, parades and other public expressions of views in large groups (greater than 25 people).
§2.52(c) Sale or distribution of printed matter that is not solely commercial advertising by large groups (greater than 25 people).
§2.62 Memorialization:
(a) Erection of monuments (Requires approval from Regional Director).

(b) Scattering ashes from human cremation.
§5.1 Advertisements - (Display, posting or distribution).
§5.3 Engaging in or soliciting any business (Requires a permit, contract or other written agreement with the United States, or must be pursuant to special regulations).
§5.5 Commercial Photography/Filming:
(a) Commercial filming of motion pictures or television involving the use of professional casts, settings or crews, other than bona fide newsreel or news television.

(b) Still photography of vehicles, or other articles of commerce or models for the purpose of commercial advertising.
§5.7 Construction of buildings, facilities, trails, roads, boat docks, path, structure, etc.
Ill. GENERAL REGULATIONS

36 CFR §2.1 - PRESERVATION OF NATURAL, CULTURAL AND ARCHEOLOGICAL RESOURCES
(a)(4) dead and down wood may be gathered in the vicinity of the Green Island and Bow Creek designated camping areas for immediate use within the provided fire grates. Any firewood from outside the area is prohibited.
Determination: There is an adequate amount of dead and down wood on the ground to be used for campfires. The use of this wood will help reduce the amount of ground fuels available to a wildfire. The introduction of firewood from outside the area could bring with it unintended non-native pests and disease.
(c)(1), (c)(2) The following fruits, nuts, berries or unoccupied seashells may be gathered by hand for personal use or consumption, in accordance with the noted size, quantity, collection sites and/or use or consumption restrictions:
One quart of berries per day per person.
36 CFR §2.2 - WILDLIFE PROTECTION
(e) The following areas are closed to the viewing of wildlife with the use of an artificial light:
Park wide- The unauthorized use of artificial light for the purpose of viewing wildlife is prohibited in all areas of the park.
Determination: The use of artificial lights to view wildlife creates unnecessary human-caused stress upon the animals, causing them to change their behavior patterns. The light also can also be a precursor to poaching activities.
36 CFR§2.3 - FISHING
(d)(2) Live or dead bait fish, amphibians, non-preserved fish eggs and fish roe may be used in accordance with state regulations.
Determination: State regulations allow the use of bait fish if such fish are used in the same waters in which they are captured. This practice will not introduce non-native fish into park waters.
36 CFR §2.10 - CAMPING AND FOOD STORAGE
(a) Primitative camping is allowed in the designated sites at Bow Creek Recreation Area and Green Island.

No facilities are available.
36 CFR §2.13 - FIRES
(a)(1) fires are allowed in the provided fire grates at Bow Creek and Green Island.
(b) all fires must be extinguished with water and cold to the touch when not being attended.
36 CFR §2.22 - PROPERTY

(a)(2) Property may be left unattended for periods longer than 24 hours in the following areas and under the following conditions:
Decoy and blinds must be removed if not occupied or used within a 24-hour period.

Portable hunting stands or elevated platforms are allowed for deer and turkey hunting by archery only. They must not be permanently mounted (e.g. no nails or screws) to trees or other park infrastructure. Hunters may utilize no more than two (2) stands or elevated platforms per hunter. Stands and platforms may remain in place for the duration of the established state hunting season; hunters may erect stands or platforms one (1) week before the season starts and must be removed by the last day of the season. Stands and platforms must be labeled with the owner's contact information, including name, address, and telephone number. Stands and platforms are not allowed within 100 yards of developed facilities (e.g., designated camping areas, pit toilets).

36 CFR §2.35 - ALCOHOLIC BEVERAGES AND CONTROLLED SUBSTANCES
(a)(3) (i)(B) Alcoholic beverages.
The sand bar, situated at 96°47.5573580'W, 42°40.2000347'N, located adjacent to river mile 764, adjacent to the Bolton South Dakota Game Production Area, at the terminus of Road 471 and commonly known as Burbank Beach, is closed to the consumption of alcoholic beverages and the possession of a bottle, can or other receptacle containing an alcoholic beverage that is open, or that has been opened, or whose seal is broken or the contents of which have been partially removed.
Determination: The Bolton Beach area has a recent history of incidents and aberrant behavior related to the consumption of alcoholic beverages including three fatalities, multiple water rescues, DUIs on the access road, vehicle break-ins, and a meth lab. South Dakota Game, Fish, and Parks closed the area to alcohol in July 2019. In May of 2020 it was discovered that these same types of activities had carried over to the newly created (based on past year flows of the river) described sand bar within the mean high-water mark of the river (an area under the administration of the National Park Service). In addition to a spinal cord injury from a shallow dive, and a discharged weapon on the same weekend, over a dozen thirty gallon bags of trash were collected by rangers on the sand bar. If left to accumulate the trash would create an impairment to the natural resource.
In order to curb this activity altogether, and to cooperate with our neighboring agency, the Superintendent determined an alcohol ban is the best course of action. A total closure of the sand bar was considered but deemed too stringent. More monitoring of the area by NPS staff was considered but deemed insufficient to address the problem since most of the consequential activity occurs outside normal business hours, the staff is greatly decreased this year, and access to the sandbar requires specialized boating skills.
36 CFR §2.51 - DEMONSTRATIONS
(c) The following areas are available for demonstration:
Mulberry Bend Overlook on the sidewalk at the south end of the parking area.

Park Headquarters/visitor center on the lawn to the east of the building.
Determination: These areas meet the standard of providing a demonstration area visible to the public while at the same time not impeding park operations or the visitor experience.
36 CFR §3. 7 PFD REQUIREMENTS
Every NPS employee, volunteer, or event participant on board any NPS motorized or non-motorized vessel, or onboard any motorized or non-motorized vessel in use under the authority of a Special Use Permit, shall wear a PFD.
Determination: User safety is of the utmost concern. The Missouri River contains many seen and unseen hazards, and the strong current can tire the best swimmers. Boating accidents often happen so quickly, just having a PFD nearby is not adequate.
Federal regulations covering all National Park Service lands are contained in the Code of Federal Regulations, Title 36, Chapter 1 also known as 36 CFR. Within 36 CFR, park superintendents are granted the right to make park-specific regulations to maintain public health and safety, protect environmental or scenic values, protect natural and cultural resources, aid in scientific research, provide for equitable use of facilities, and avoid conflict among visitor use activities. To view regulations specific to Missouri National Recreational River established under the discretionary authority of the park superintendent, please read the above Superintendent's Compendium.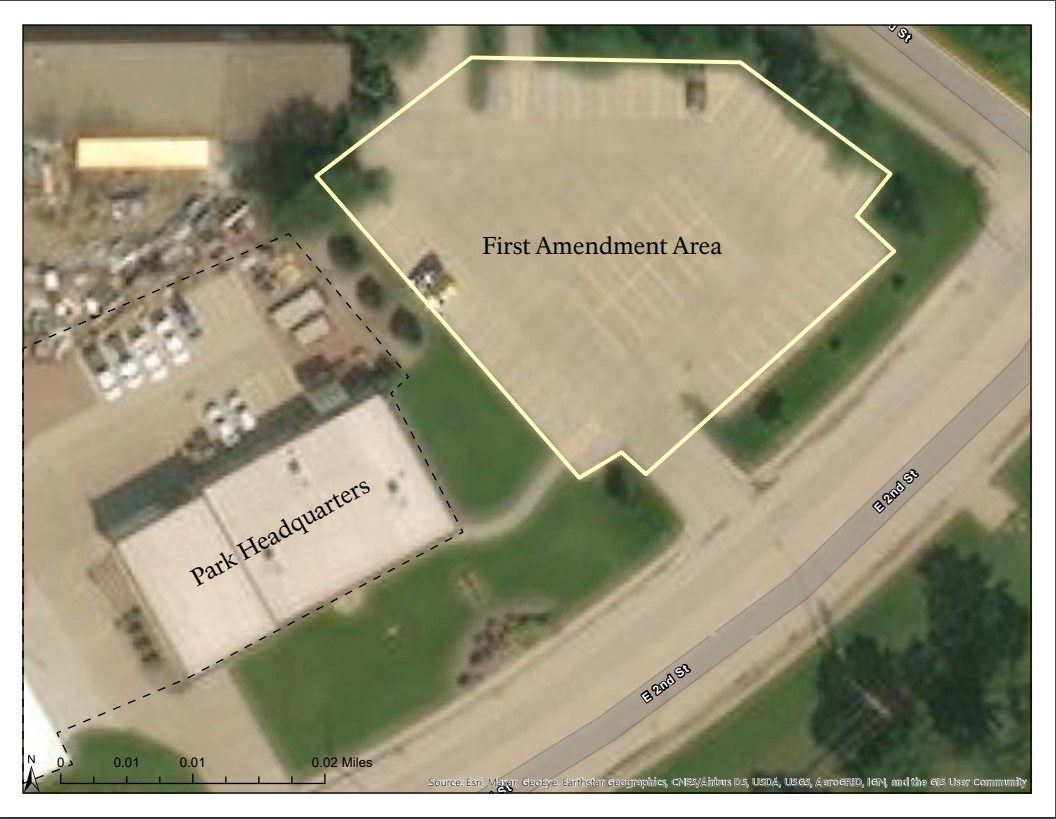 Last updated: February 10, 2021