Mississippi Gorge Regional Park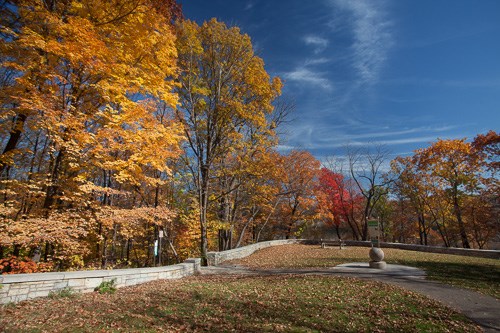 Overview
The gorge area of the Mississippi River has much to offer the visitor throughout the year. Hiking, birdwatching, and photography are all popular activities in the gorge. Fall can be a specacular time when the sugar maples and other trees turn into their autumnal colors.
History
The Mississippi Gorge was formed as the Mississippi River cascaded over a massive waterfall cutting away the soft sandstone that supported an upper layer of erosion-resistant limestone and shale. The hard capstone would snap off as it became unsupported and fell into the valley. Over thousands of years this process of erosion caused the migration of the waterfall upstream until it evolved into the falls we see today at St. Anthony.
Along the Gorge at 36th Street in Minneapolis, a small remnant pocket of prairie has survived over the last 30 years. The prairie, a mesic oak savanna, has scattered oak trees with a groundlayer of prairie grasses and wildflowers, and is being restored. In 1998, the Longfellow Community Council, the Minneapolis Park & Recreation Board (MPRB), and the Mississippi National River and Recreation Area (MNRRA) created a partnership to undertake restoration of the native prairie remnant at this site. Today, visitors can experience what the 36th Street oak savanna community looked like prior to European-American settlement.
Activities
Trails for biking and hiking exist on both sides of the river in Minneapolis and St. Paul. Bird watching is popular along the gorge, especially during spring and fall migration. And autumnal color can be spectacular when the sugar maples change in the crisp fall air.
Hours, Directions, and Contact Information
East and west banks of the Mississippi River from 35W Bridge to Ford Parkway
There is good access in Minneapolis at the end of the Ford Bridge, the Lake Street Bridge, Franklin Avenue and at many points in between. Access the St. Paul side between Emerald Street and the Hidden Falls Regional Park entrance on Mississippi River Boulevard.
Nearby Sites
Minnehaha Regional Park
,
Lock and Dam No. 1
, ,
John H. Stevens House Museum
,
Longfellow House Hospitality Center
Last updated: February 28, 2020