Longfellow House Hospitality Center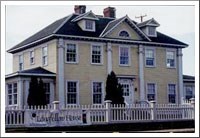 Introduction
The Longfellow House Hospitality Center provides information about the falls and Minneapolis Grand Rounds, a 50-mile recreation loop which includes Minnehaha Falls. Also, the Longfellow House and John H. Stevens House co-sponsor 90-minute historic nature walks around the park.

The home is located close to Minnehaha Falls and is the public information center at Minnehaha Park. Photos of the home's previous owner can be seen inside. The most popular photos are shots taken of him in his private "zoo" with lions, bears and birds.
History
Despite its name, the Longfellow House was never home to the famed American poet Henry Wadsworth Longfellow. Instead, it was the home of a Minneapolis philanthropist and entrepreneur named Robert F. Jones who was known as "Fish" because he once ran a fish market.
Built in 1907, the house is a two-thirds scale replica of Longfellow's home in Cambridge, Mass. Originally, the home was part of Jones' private 4.6-acre botanical garden and zoological park near Minnehaha Falls.
After Jones died, the home fell into disrepair. He had deeded his property to the city, which used the house as part of the Minneapolis public library from 1936 to 1967. The house was moved in 1994 and renovated. It opened as an information center in 2001.
Contact Information and Directions:
Related Activities
Family-Friendly, History & Culture, Museum, Tours, Visitor Center
Sites Nearby
Minnehaha Regional Park, Lock and Dam #1, Fort Snelling State Park, Historic Fort Snelling, Mississippi Gorge Regional Park,
Last updated: February 27, 2020