Lock and Dam No. 1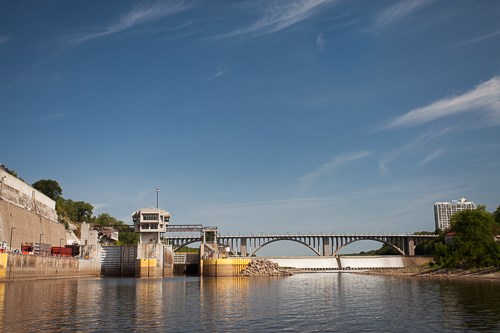 Introduction
The public area of Lock and Dam 1 is open seasonally for watching lock usage by pleasure craft and commercial barges. The high walls of the gorge in which the lock and dam sits hosts much birdlife, including bald eagles, peregrine falcons, vultures, hawks, and smaller migratory birds.
History
The construction of Lock and Dam 1 was completed in 1917. The 30-foot high dam provided the water depth necessary to maintain a 9 1/2-foot channel from St. Paul to Minneapolis. Reconstruction of the dam took place in 1929 and then again from 1978 to 1983.
Lock and Dam 1 is one of the steps in the "stairway of water" on the Mississippi River that makes possible the travel of craft from St. Anthony Falls in Minneapolis to the Gulf of Mexico.
Activities
There is a public observation deck available for landbound visitors, which is opened on a seasonal basis. Boaters should consider obtaining resources, which include the Metro Area Rivers Guide. The Army Corps of Engineers provides navigation charts which may be obtained online either through download or by purchasing a hard copy. The Minnesota Department of Natural Resources booklet, Boating on the Big River, provides lots of good information on staying safe, the process on locking through dams, and how to have fun on this national treasure.

The area offers bald eagle and pelican viewing and other migratory waterfowl may be seen during migration in spring and fall. There is a peregrine nesting box on the big wall on the west side of the river that peregrines have used and these fast-moving birds are often seen hunting in the area. Neighboring banks below the dam are very good birding locations, especially during fall and spring migration.
Hours, Directions, and Contact Information
5000 West River Parkway, Minneapolis, MN 55417-1609
GPS: 44.916635, -93.203211 (Parking. Walk down the hill to the lock and dam.)
(651) 290-5919
Nearby Sites
Minnehaha Regional Park
, ,
Coldwater Spring (NPS)
Last updated: February 28, 2020