Boating and Canoeing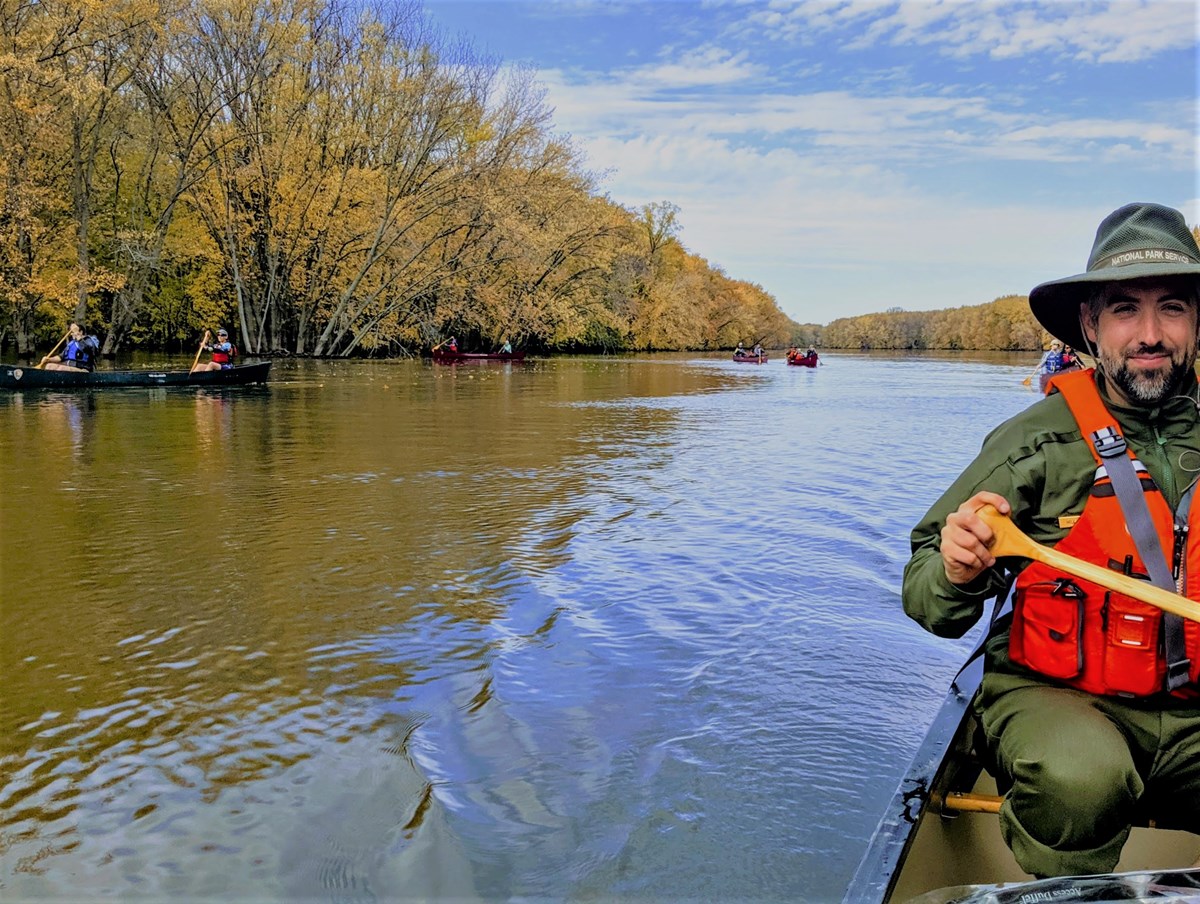 Introduction
The Mississippi River can often be overlooked in the land of 10,000 lakes. Yet the 72-mile stretch of the Mississippi River in the Mississippi National River and Recreation Area provides a unique outdoor experience that is as diverse as the historic, cultural and natural locations it flows through. Find your place on the river and create an experience of your very own!
Be sure to pick up a copy of our Mississippi River Companion for planning a trip through the Twin Cities. Water Trail maps are available from Minnesota Department of Natural Resources website as well. These latter maps cover the entire Minnesota stretch of the Mississippi River and include camping, hazards, and landings. If you don't have a boat, try out the Paddle Share program or attend one of the Wilderness Inquiry Mississippi River Day trips.
CAUTION: The Upper St. Anthony lock in Minneapolis is permanently closed. Currents around the dam are hazardous and the dam should not be approached from upstream. There is a portage trail available.
Crow River to Coon Rapids
Start: 18470 Robinson Street, Dayton, MN 55327, GPS: 45.244832, -93.520987
End: 9750 Egret BLVD NW, Minneapolis, MN 55433, GPS:
45.147188, -93.310717
Launch from the confluence of the Crow and Mississippi River and enjoy the quiet natural surroundings as you float downstream to the Coon Rapids Dam. The wildlife and natural features along this 12.7 river mile stretch of the Mississippi River are a unique journey that must be experienced to truly enjoy. Both boat launches offer parking, restrooms and are handicapped accessible.
Lion's Levee Park to Grey Cloud Island
Start: The end of West 7th Avenue, St. Paul Park, MN 55071, GPS: 44.845556, -93.007497
End: 10971 Grey Cloud Trail S, Cottage Grove, MN 55016, GPS: 44.791409, -92.979069
Located at river mile 829.5, Lion's Levee Park offers paddlers a boat launch, picnic and grilling area and lighted parking lots. The boat launch is handicapped accessible and is open from 4:00 a.m. until 11:00 p.m. Trips south include a paddle through backwaters amidst short cliffs. A longer trip takes the canoeist/kayaker through these backwaters, out on to the shipping channel (please use caution around barge traffic and closing dams), and finally past Grey Cloud Island to a boat landing on Grey Cloud Trail.
Last updated: November 3, 2020