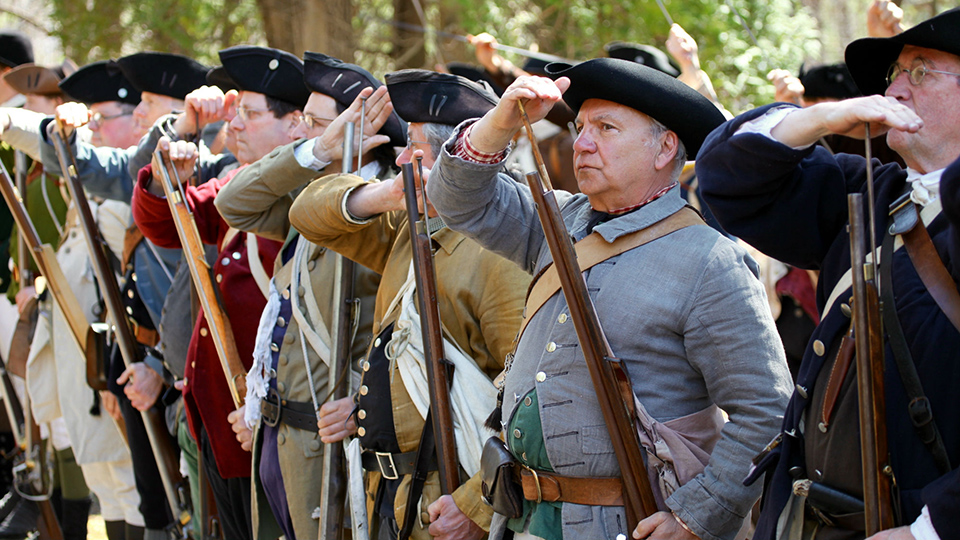 News Release Date:
February 26, 2018
Contact: Phil Lupsiewicz, 978-318-7833
WHO: Dozens of  Volunteer Colonial and British reenactors from New England
WHAT:          Muster Day
WHEN:          Saturday March 24th, 2018, 9:00 a.m. – 1:00 p.m.
WHERE:       Minute Man Visitor Center, 250  North Great Road (Route 2A) in Lincoln, MA
WHY: A photo and video opportunity to meet and talk with reenactors before Patriots' Weekend activities in the park in April 2018. The National Park Service has invited reenactment groups to the park for an inspection of arms and accoutrements to facilitate Patriots Weekend events. Dedicated historical reenactors have a passion for this particular defining moment in American history –one that has become a unique part of our country's identity. Commemorating the brave actions of the "embattled farmers" who risked their lives and livelihoods is what the celebration Patriot's Day is all about.
BACKGROUND:      These tactical demonstrations take six months to plan. Companies of colonial minute men and British regiments – with many volunteers traveling a great distance – will participate. Last year, approximately 7,000 spectators attended the event. The Battle Road event – Dozens of British and Colonial reenactors will stage a running battle demonstration along a half-mile of the original Battle Road that has been restored by the National Park Service.
For more information, please call Phil Lupsiewicz at 978-318-7833, or send an email at phil_lupsiewicz@nps.gov
-end-