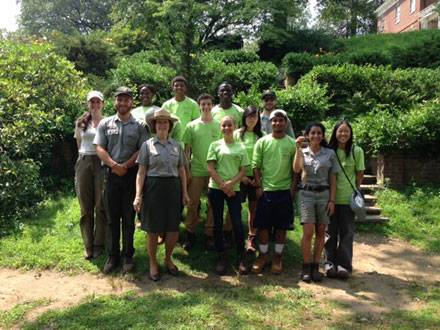 Branching Out Comes to Minute Man NHP
The Olmsted Branching Out Program, an Exploration in Landscape Management for City Youth, spent the week of July 28th to August 1st at MIMA. They assisted park employees in the installation of two park benches and the removal of invasive vines from the historic terraced Buttrick Gardens. Two benches were installed -- one overlooking a cow pasture and the other a pond at the Minute Man Visitor Center. The youth volunteers learned to grade and level soil, mix concrete to create footings, fasten the bench to the footings, and clear brush to create viewsheds for the benches. After the benches were installed the ground was graded so that the footings and fasteners were hidden. Grass seed was spread then covered by hay to reduce erosion and to restore the disturbed landscape from the excavation.
In the terraced garden, before the Branching Out team began their work, they were instructed in invasive plant identification so that they would be able to spot the invasive plant vines from the intentional garden shrubs. After the identification training they began the removing the choking vines from rhododendrons, mountain laurels, and azaleas manually unwinding the vines in effort to not damage the shrubs they were climbing on.They also cleared vistas and stone pathways.
---