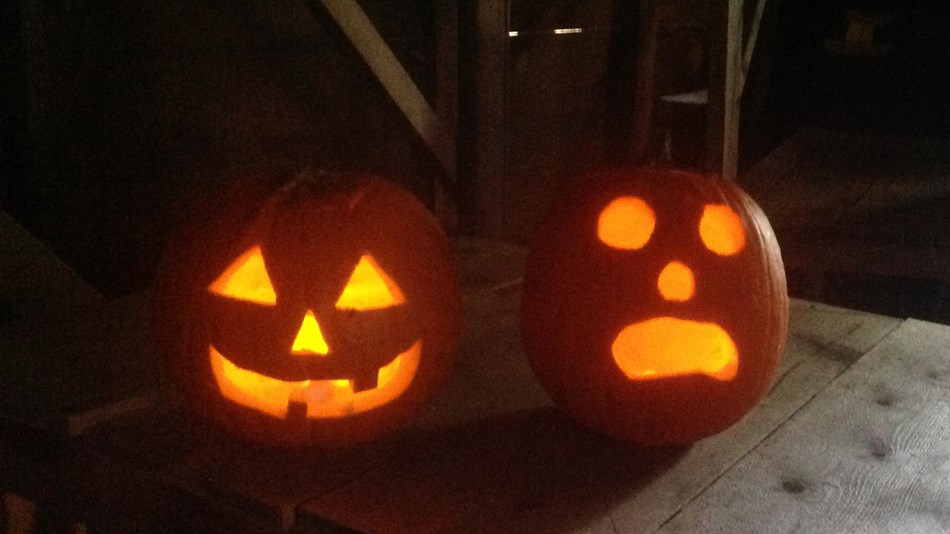 News Release Date:
August 29, 2017
Contact: Phil Lupsiewicz, 978-275-1705
Concord, MA.
 Enjoy special events at Minute Man National Historical Park in October and early November.  
Saturday, October 21st
Archaeology Finds of Minute Man National Historical Park
Major John Buttrick House (across from the parking lot for the North Bridge Visitor Center)
1:00 p.m.
Join Nikki Walsh, Museum Services Northeast Region of the National Park Service, for a presentation of various artifacts found throughout the park, from Concord to Lincoln to Lexington. See the artifacts and learn the stories behind where the items were found and the use of them in their historical context.  
Saturday, October 21st AND 28th
Halloween Tales
Hartwell Tavern
5:30 p.m. Lantern Walk (designed for children 6 and under)
7:00 p.m. Story telling (appropriate for 7 and above)
Celebrate Halloween with The Guild of Historic Interpreters!
Join us at 5:30 p.m. for a spooky lantern walk down the Battle Road Trail to meet the spirits of 1775. LED lanterns are provided by the Friends of Minute Man National Park for a suggested donation of $5.00 per person or $10.00 per family.
Starting at 7:00 p.m. gather at the barn for an even spookier selection of ghost stories from Old and New England. Please bring a flashlight for the walk from the Hartwell parking area to the barn behind Hartwell Tavern.
Sunday, October 22nd
Authoring a Nation: A Hawthorne Neighborhood Walking Tour
The Wayside: Home of Authors
1:30 p.m.
Explore the neighborhood where Nathanial Hawthorne, Louisa May Alcott, Ralph Waldo Emerson, and Henry David Thoreau lived and worked. Discover how their writings helped develop a unique American identity. The walk is almost one mile. Please wear comfortable shoes. 45-60 minutes.
Saturday, November 4th
Revolution 250
Presents...Boston 1767 - The Devil and the Crown
Faneuil Hall, Boston MA
11:00 a.m. - 5:30 p.m.
On Saturday, November 4, experience revolutionary politics "indoors" and "out-of-doors" as it would have happened 250 years ago. Participate in a live reenactment at Faneuil Hall of a Boston town meeting which took place in October 1767. Join in the discussion as local citizens argue over whether or not to stop importing British goods. Following the town meeting, join a rowdy procession of laboring-class Bostonians of 1767 around Faneuil Hall and Quincy Market to the Old State House, as they express their disapproval of British trade policies in a rather colorful and intimidating way.
11:00 am - 2:00 pm. "Goods for Your Master, Taxes for Your King"
Come try your luck as a young apprentice in this colonial marketplace game. Whether you buy, barter, or smuggle, the goal's the same: bring all your goods back to your employer and get promoted! This drop in program is best for ages 6-10, Faneuil Hall, Education Space, basement.
1:00 - 4:30 pm: 
- meet reenactors portraying Bostonians of different social classes in Samuel Adams Park, directly in front of Faneuil Hall, and learn about why they are protesting the new laws.
2:30 and 4:00 pm: Revolutionary Town Meeting: Stand up! Speak Out!
Join a lively meeting to debate Boston's response to the hated Townshend Acts. Character cards are available. Free, 30 minutes, Faneuil Hall, Great Hall, second floor.
4:30 pm:
 Join a rowdy street protest and process around Faneuil Hall and Quincy Market to the Old State House.
5:30 pm – 6:30 pm:
 Dive into Boston's Revolutionary past and explore the galleries inside the Old State House. Admission is free to all.
The Devil and the Crown program is being offered as a joint program of Boston National Historical Park, Minute Man National Historical Park, The Bostonian Society, Massachusetts Historical Society, and
Revolution 250.
For more information about this event please contact Jim Hollister at 978-318-7829 or 
jim_hollister@nps.gov
.
Saturday, November 11th
Honoring Sacrifice
North Bridge
11:00 a.m.
November 11th is "Veterans' Day" when we honor the service and sacrifice of all the brave Americans who serve or have served in our country's military. Join park staff, volunteers and veterans at North Bridge to learn about America's first soldiers, the minute men. Veteran volunteers will share thoughts on service, and the role of veterans in preserving our history.  
WWI, Concord and The Wayside
The Wayside: Home of Authors
1:00 - 4:00 p.m.
On Veterans' Day, commemorate the U.S.and Concord involvement in WWI Discover the involvement of Concord residents in the war, including Margaret Lothrop, the last owner of The Wayside, and her involvement in the Red Cross in France. Tour The Wayside.  
To learn more about this and other park offerings of Minute Man National Historical Park during this centennial year of the National Park Service, including the Junior Ranger program, The Wayside, ranger-led tours, and upcoming special events stop by the Minute Man Visitor Center at 250 Great Road, Lincoln, MA, or contact Minute Man National Historical Park at (978) 369-6993, or visit
www.nps.gov/mima
.