Stargazing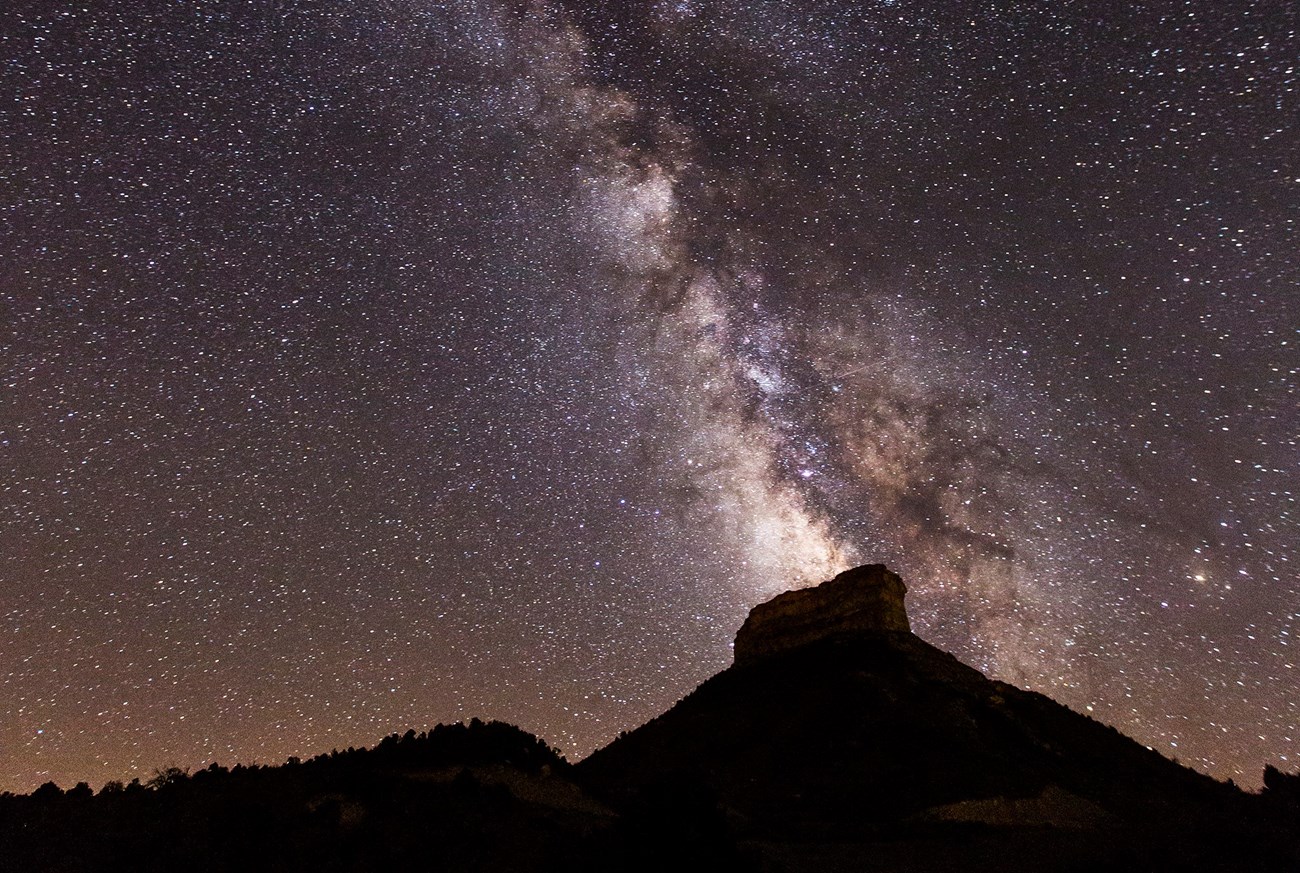 Enjoy Some of the Country's Darkest Skies
The Ancestral Pueblo people survived and thrived as farmers in a challenging environment. They were keen observers of the sky, who left behind plentiful evidence of their sophisticated astronomical knowledge. Once the sun sets, park visitors can experience a night sky very similar to what the the Ancestral Pueblo people saw a millennium ago. The night skies above Mesa Verde are an important cultural resource, as well as a draw for visitors seeking spectacular views of the heavens above.

Today, Mesa Verde sits at the center of the darkest skies remaining in the contiguous United States. The region's high elevation, arid climate, sparse population, and clear skies all contribute to exceptional stargazing opportunities.

In 2021, Mesa Verde was certified as the world's 100th International Dark Sky Park, in recognition of the park's ongoing efforts to preserve and protect our naturally dark skies.
Where to Stargaze
While Mesa Verde's fragile archeological sites, trails, and backcountry are closed at night, there are many good spots to enjoy views of the park's dark skies.
Morefield Campground
and
Far View Lodge
, where visitors can spend the night (May to October), offer great stargazing and sometimes host ranger-led evening programs.
Numerous overlooks along the park road, including Geologic Overlook, Mancos Overlook, and the Montezuma Valley Overlook, as well as unnamed pullouts provide expansive views of the night sky and remain open to public access throughout the night.
How to Stargaze
Plan.
Even the light from a thin crescent moon can make it more difficult to see fainter stars or even the Milky Way. You'll see the darkest skies during a new moon or when the moon is below the horizon. Check sunrise and sunset times and moon phases before you head out. NASA's Night Sky Planner page offers useful links and tips.
Give yourself time.
It can take 20-30 minutes for your eyes to adjust to the dark. Spend enough time outside away from bright lights to allow your eyes to adjust.
Use a red light.
White lights from flashlights, cell phones, or vehicle headlights can harm your night vision. A red light won't impact your night vision as much. Many flashlights and headlamps have a red-light feature, or you can simply cover your white light with red cellophane.
Bring a star chart.
A star chart or planisphere can help you find the constellations and Milky Way.
Last updated: June 3, 2022