Lodging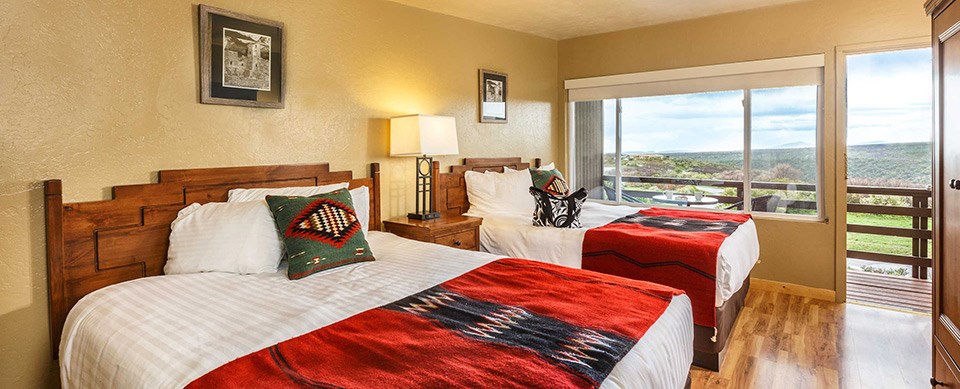 Far View Lodge

The Far View Lodge is located at the center of the park, 15 miles (24 km) from the park entrance (about a 30-minute drive), and features commanding views south over Mesa Verde into Colorado, New Mexico and Arizona. The Lodge is open from spring to fall. See current Hours of Operation.
Reservations
Make reservations online or by phone at 1-800-449-2288.

Details
All Far View Lodge rooms are non-smoking and feature private balconies and various bed configurations.

Far View Lodge Amenities
Metate Dining Room
Gift Shops
Lounge/Bar
Mountain WiFI
Electric Vehicle Charging
(Network: Tesla Destination)

Free Guest Parking
Non-Smoking
ADA Accessible
Pet-Friendly

Room Amenities
Private Bathroom
Private Balcony
Coffee Maker
Mini-Fridge
ADA Accessible Room

Iron/Ironing Board
Hair Dryer
Rollaway Cribs Upon Request
Complimentary Wi-Fi
No TV


KIVA ROOMS (1 King or 2 Double Beds)
The moment you step inside, you'll feel the warm connection to the indigenous western culture and history. Custom handcrafted furniture combines modern comfort and old-world craftsmanship to bring character and luxury to your surroundings. A private balcony and air conditioning put the priority on comfort and relaxation.

KIVA DELUXE VIEW ROOMS (1 King or 2 Double Beds)
Nestled deep inside Mesa Verde National Park, you'll take in unobstructed views that stretch for hundreds of miles, right from your own balcony. In addition to enjoying the amenities of a Kiva Room, our Deluxe View Rooms are perfect for relaxing, wildlife watching, and stargazing like you've never seen before.

Rates and dates are subject to change. For current rate information and reservations, please visit the Aramark website.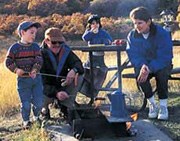 Thinking about camping instead? Check out the Morefield Campground, just four miles from the park entrance.


Last updated: April 12, 2022