Multimedia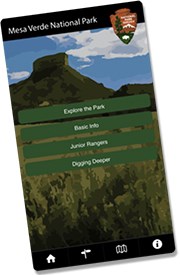 Mesa Verde National Park has partnered with OnCell to build the park's first mobile app! It contains more than 20 points of interest with GPS-enabled maps and engaging content highlighting natural and cultural features of the park. Free from the
App Store
(iOS) and
Google Play
(Android).
Cell service and Wi-Fi are limited in the park, so visitors are encouraged to download the app before they arrive. Service is available at the Mesa Verde Visitor Center, located near the park entrance. We would love to receive feedback on the app so we can continue to enhance it. If you'd like to share your review,
email us
and use "Mobile App" in the subject line.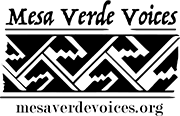 A new podcast series exploring the lives of the Ancestral Pueblo people, connecting the experiences of people from the past with people of today. To download, visit
mesaverdevoices.org
.
The series is developed in partnership with KSJD Public Radio, Mesa Verde Museum Association, and Mesa Verde Country.

Visiting Wetherill Mesa
Mesa Verde National Park can be divided into two sections: Chapin Mesa and Wetherill Mesa. Wetherill Mesa provides opportunities for hiking, biking, hiking with pets, and both self- and ranger-guided hikes through spectacular archeological sites, such as Long House, Step House, and Badger House Community Sites.
Check out this short video to help you prepare for a trip out to Wetherill Mesa.

Duration:

5 minutes, 18 seconds

Cliff Dwelling Tours

For those trying to decide which cliff dwelling to visit during a trip to Mesa Verde, check out these amazing videos. All have particular aspects that help transport you back over 700 years to when they were home to the Ancestral Pueblo people.

Ranger Shorts Video Series
2016 was a landmark year for the National Park Service (NPS) as we celebrated 100 years! So in honor of the NPS Centennial, the park posted a number of videos of rangers sharing their love for parks and what working for the National Park Service means to them. We hope these videos continue to inspire.
Ranger Forist, Interpretive Ranger
(Music: www.bensound.com)

Duration:

3 minutes, 12 seconds
Ranger Muszkiewcz, Interpretive Ranger
(Music: www.bensound.com)

Duration:

2 minutes, 8 seconds
Ranger Springmeyer, Interpretive Ranger
(Music: www.bensound.com)

Duration:

2 minutes, 5 seconds
Ranger Weihe, Interpretive Ranger
(Music: Scott Holmes; freemusicarchive.org)

Duration:

2 minutes, 27 seconds

Why is Spruce Tree House Closed?
The forces of nature that formed the shelters containing Mesa Verde's cliff dwellings are still active, and the alcove surrounding Spruce Tree House has become particularly unstable. Learn about the history and reasons behind the current Spruce Tree House closure.

Duration:

3 minutes, 39 seconds
Spruce Tree House can be seen from overlooks near the Chapin Mesa Archeological Museum. Rangers are available to answer questions. There are many other things to see and do while in the park including a visit to the Museum; visiting sites along the Mesa Top Loop with views of other cliff dwellings, including Cliff Palace; exploring Far View Sites; and hiking trails. In the late-spring, summer, and early-fall months, tours of other cliff dwellings such as Cliff Palace, Balcony House, Long House, and Step House are available. Please check the
park schedule
to see what is available at the time of your visit.
Last updated: January 24, 2020