Hanford, WA Site - Manhattan Project National Historical Site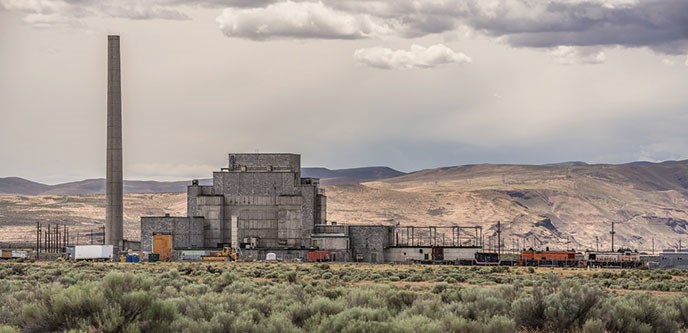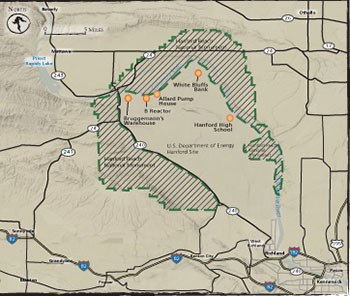 The Hanford Engineer Works was built to create large quantities of plutonium at a roughly 600-square-mile site along the Columbia River in Washington State. More than 51,000 workers at Hanford constructed and operated a massive industrial complex to fabricate, test, and irradiate uranium fuel and chemically separate out plutonium.
The Hanford landscape is also representative of one of the first acts of the Manhattan Project, the condemnation of private property and eviction of homeowners and Native American tribes to clear the way for the top-secret work.
At Hanford the park includes:
the B-Reactor National Historic Landmark, which produced the material for the Trinity test and plutonium bomb

the Hanford High School in the Town of Hanford and Hanford Construction Camp Historic District

Bruggemann's Agricultural Warehouse Complex

White Bluffs Bank and Hanford Irrigation District Pump House, which together provide a glimpse into the history of the Hanford area before the arrival of the Manhattan Project.
The T-Plant, a chemical separations canyon, will not be in the park initially, but visitors will learn about its vital role at other locations in the park.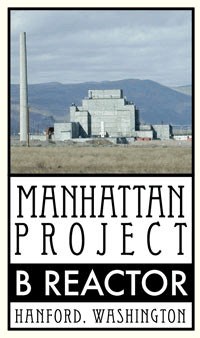 Visiting Hanford
The Hanford B-Reactor National Historic Landmark Tours are offered Monday through Saturday, from April through September. During the tour season the visitor center is closed on Sundays and during the off season, the visitor center is closed Friday through Sunday. Visitors can register for tours by online, phone, or in person. The free, guided tours last approximately 4 hours, including travel to and from the B-Reactor on a Department of Energy (DOE) sponsored bus. DOE will also offer tours of the pre-Manhattan Project facilities during the same timeframe.
For more information, please visit the Manhattan Project NHP B-Reactor Tours page.

Visit Tri-Cities provides information on lodging, activities, and restaurants in Richland and surrounding communities.

Directions
The Hanford visitor contact station is located in Richland, Washington, at 2000 Logston Blvd. It can be reached by taking Hwy 240 North and turning right onto Logston Blvd. and taking an immediate right into the parking lot.
Last updated: May 30, 2019