About Los Alamos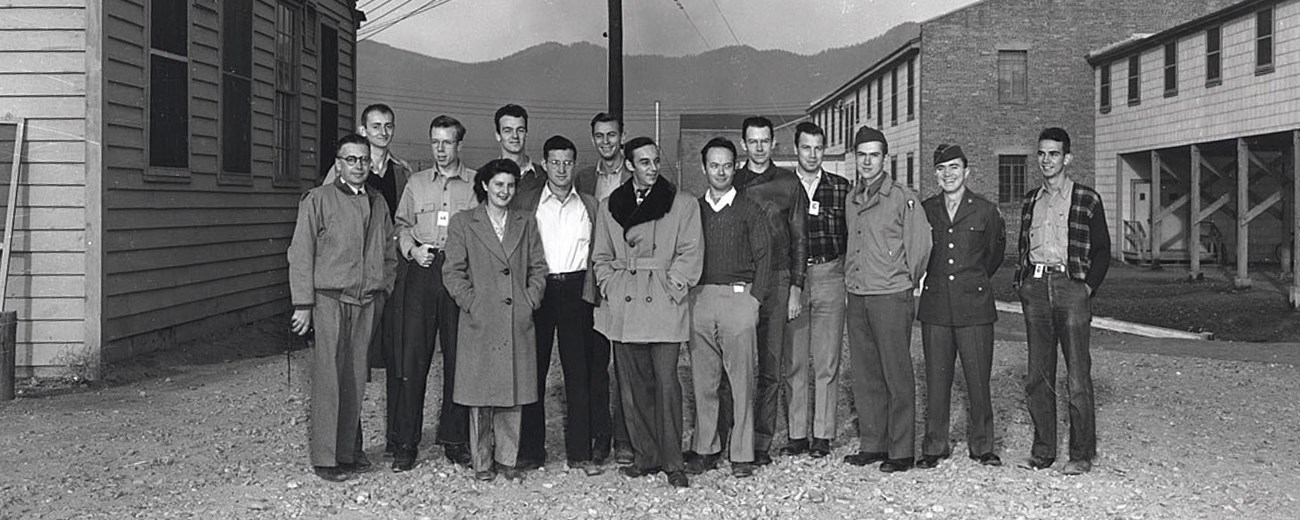 Los Alamos, New Mexico was one of three main top-secret locations for the Manhattan Project in 1942. Located on the Pajarito Plateau, this area was first called home by Ancestral Pueblo people and homesteaders before the busy scientific community of Project Y took over the landscape. Atop a plateau, security was easy to maintain as famous scientists constructed "The Gadget" and atomic bombs "Little Boy", and "Fat Man."  
In the process of selection, importance was placed on sparse population, accessible water sources, available structures, and valuation. For Los Alamos, the selection process was quick, as existing buildings from the Los Alamos Ranch School could be immediately utilized as housing for scientists coming to Los Alamos. Soon, J. Robert Oppenheimer would be appointed as director of this new, top-secret city that many locals would eventually call "The Hill." 
Hurriedly built, huge laboratory buildings sprawled along the south side of Ashley Pond. Rows of four-family apartments sprung up near the mountains. A few raised board sidewalks lifted residents up out of the mud that was common in winter when snow melted and in summer during the many afternoon monsoons. In their off time many residents spent time outside, taking in all the adventures that Los Alamos had to offer.  
In the laboratory, precise calculations and months of experimentation were required to obtain the perfect size and shape measurements of the first atomic weapons. From these calculations and experiments two bomb types were considered. The first was the gun method, which used conventional gun technology to send one subcritical mass at high speed into the other, forming a supercritical mass. The gun method utilized uranium–235 from the Manhattan Project site of Oak Ridge, Tennessee and the bomb created in this method was named, "Little Boy".  
The second method was implosion, where conventional explosives, like TNT, would create symmetrical shockwaves. These shockwaves were directed inward to compress a subcritical mass of plutonium, resulting in a chain reaction. This new method utilized plutonium from the Manhattan Project site at Hanford, Washington but it would need to be tested.  
In July of 1945, "The Gadget" detonated at the Trinity Test site near Alamogordo, New Mexico, ushering the world into the atomic age. Many years of experiments and calculations in Los Alamos culminated in the success of the Trinity Test. The final experiment complete, a plutonium implosion bomb was then created that would be called, "Fat Man." With the first atomic bombs assembled, what would that mean for the scientific community of Los Alamos? 
Science still happens here in Los Alamos. Today, the Los Alamos National Laboratory employs many residents and continues to break scientific boundaries with experiments and research. Many Manhattan Project-era buildings still exist and are preserved in partnership with the U.S. Department of Energy. Come and immerse yourself in the phenomenal story of Los Alamos, from its origins as an Ancestral Pueblo homeland through the scientific achievement of the Manhattan Project, by stepping behind the fence of this once secret city. 
Last updated: March 26, 2023