Horseback Riding at the Park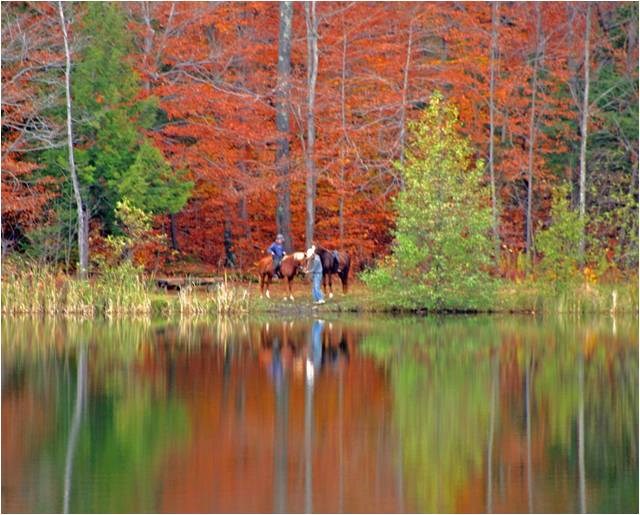 The trails are open for equestrian use. Most trails are suitable for horseback riding, but please avoid taking your horse up the Precipice Trail and North Peak Trail. Horse Trailers can be parked at the Prosper parking lot or Billings Farm & Museum overflow lot. (If you are bringing a carriage, please make sure to call ahead to make arrangements 802/457-3368 x222).
General Considerations
Tethering - When not being used, horses should be tethered. Horses that are nervous "diggers" or "pawers" should be hobbled when tied to prevent unnecessary damage to the terrain. Please tie at least 200' from streams or lakes.
Hitches - Always use hitch-racks where provided. Where there are no hitchracks, tie a rope between two trees, "a highline" away from the trail and hitch the stock to the rope. This avoids damage to the tree and trampling around the root system.
Right-of-way - Hikers are required to stand quietly on the lower side of the trail and yield the right-of-way to stock. Many hikers do not know and understand the need for this procedure, so stock users are encouraged to courteously coach them on proper meeting procedures.
Stay the course - Please stay on established trails. Check with Park Rangers regarding any cross-country riding or riding on paved roads.
Manure - As a courtesy to others and the park's resources, scatter manure after camping or stopping for long periods and smooth out any ruts or holes.
Last updated: September 22, 2022