Hike 7 Precipice Trail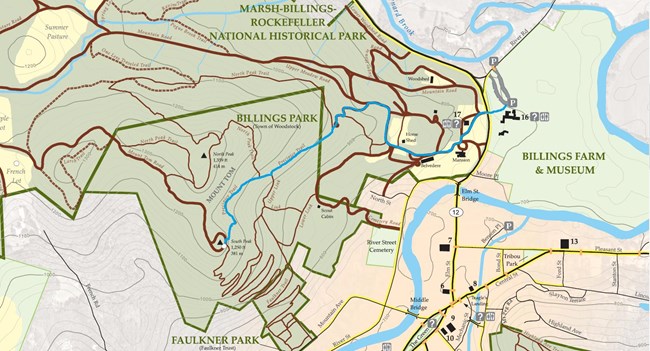 For those seeking a more adventurous hike, the Precipice Trail passes through rugged terrain weaving up the southwestern side of Mount Tom.
To reach this trail, cross Route 12 into the park, and take a left up the Carriage Road. After passing the Mansion and Belvedere (white building) on your left, continue up the hill past the horse shed. Stay on Upper Meadow Road, and take a left at the signpost for the Precipice/North Peak Trail. Continue uphill to a signpost on the left for the Precipice Trail. Proceed carefully through scenic rocky outcroppings to South Peak. Return along the same route. Do not attempt this hike in the rain or without sturdy footwear. Use the handrail at your discretion–give it a wiggle to ensure it is firm before use.
History
This trail crosses from the National Park into Billings Park, given to the town of Woodstock in 1953 by Mary Rockefeller and her siblings in memory of their mother, Mary Billings French.
When Walking Woodstock - Remember to Always:
·Pack out what you pack in (Leave No Trace).
·Bring plenty of water.
·Keep your dog on a leash at all times.
·Please pick up after your dog, and dispose of the waste outside the park.
·Wear comfortable shoes with adequate support.
·Park at designated trailheads and lock your car.
·Choose a route that is within your ability, stay on the trails, and take a trail map with you.
·Let someone know your hiking plans, and stick to them.
·Bring a cellphone in case of emergency.
Marsh-Billings-Rockefeller Visitor Center: (802) 457-3368
Woodstock Police: (802)-457-1420
Emergency: Dial 911
Last updated: May 17, 2019