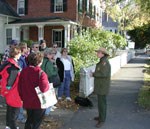 This walking tour, piloted in the fall of 2003, is the only interpretive program in the National Park System devoted to the civilian experience of the Civil War. "There are 38 units of our national park system interpreting the American Civil War," according to Dwight Pitcaithley, former NPS Chief Historian. "What makes the Woodstock tour so important is that it [is] the first-ever exclusively focused on the Home Front and the broader social context of the war. This is ground-breaking."
For tour times, please click here or call 802-457-3368 ext 222.

Civil War Home Front Walking Tour brochure, Causes and Consequences. Find information and download the park's iphone app A Walk Through Vermont's Civil War Home Front.