Artist in Residence Workshops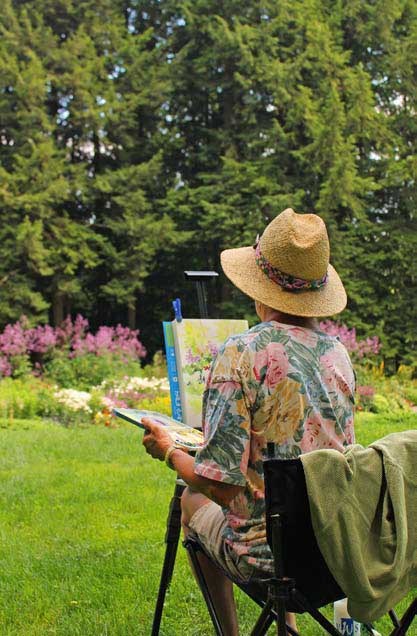 Marsh-Billings-Rockefeller National Historical Park hosts artists of all mediums!

Visit our Artists-in-Residence Page for current artist bios, past artist bios, and application information for future artists-in-residence.

Artist-in-Residence Workshops
Register in advance to attend an artist workshop! Unless otherwise noted, registration is required.
Amy Hook-Therrien (May-October 2023)
Sip & Paint: An Evening in Mansion Gardens - Click here to register
Dates: July 2nd, 2023, August 31, 2023
Join Artist-in-Residence Amy Hook-Therrien for an evening in the gardens. Mini painting lessons will take place throughout the evening. Bring a picnic blanket, your own beverage/snacks of choice and enjoy a warm summer night on the mansion lawn. Art supplies included.
Art and Meditation Hikes - Click here to register
Dates: September 23rd, 2023, October 14, 2023
Join us for an Art and Meditation Hike hosted by Artist-in-Residence, Amy Hook-Therrien, and our own resident yoga teacher, Ranger Jen Jackson. Amy and Jen will lead visitors on an easy/moderate 3-mile hike through the forest, as well as guide them through grounding and uplifting experiences such as meditation, journaling, and painting. This program offers a unique opportunity to creatively connect with nature- mind, body, and spirit.
Heather Heckel (June 24-July 12 2023)
Artist Talk - Click Here to Register (Online, Free)
Date/Time: July 26, 2023, 12:00pm-1:00pm
Artist and art educator Heather Heckel has been awarded 17 artist residencies through the National Park Service and Bureau of Land Management. She'll be giving an artist talk about her interpretation of these protected lands, and how the uniqueness of each park inspired a variety of site-specific artwork, totaling over 250 pieces. She'll also be sharing what she has made so far at Marsh-Billings-Rockefeller National Historical Park as this summer's artist-in-residence.
Open Studio Hours
Visit our artists at the
Horse Shed Artist Studio
during open studio hours!
Amy Hook-Therrien (May-October 2023)
6/29, 7/6, 7/27, 8/3, 8/10, 8/16

Heather Heckel (June 24-July 12 2023)
Wednesday-Sunday, 12:00pm-3:00pm
Dale Broholm (July 24-August 5, 2023)
Friday-Tuesday, 12:00pm-3:00pm
Last updated: July 19, 2023