Plants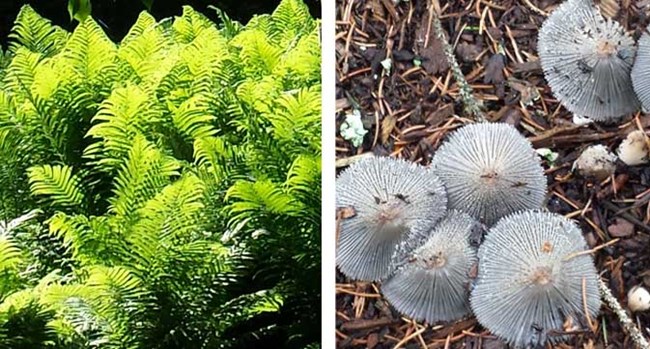 ► Read
about
Ferns
and
Mushrooms & Fungii
► Also find more in depth articles on our
Research
page.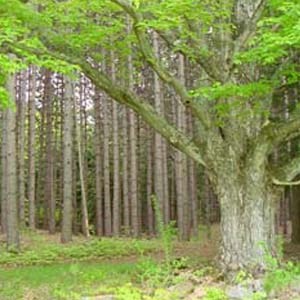 Trees
The forests within the national park are a patchwork of working plantations and natural areas. Frederick Billings and his family would plant thousands of Norway spruce, red pine, European larch, and a number of mixed hardwood stands that would include sugar maples, beeches, and birch trees in the late 1800s and the earth 20
th
century. Frederick Billings would plant many non-native trees after being inspired by the writings of George Perkins Marsh, America's first conservationist, and the work of European foresters who were also trying to rebuild landscapes after massive deforestation. Elsewhere in the park there are slopes dominated by Eastern hemlocks and stands of common native vegetation, including sugar maple, American beech, and yellow and white birch.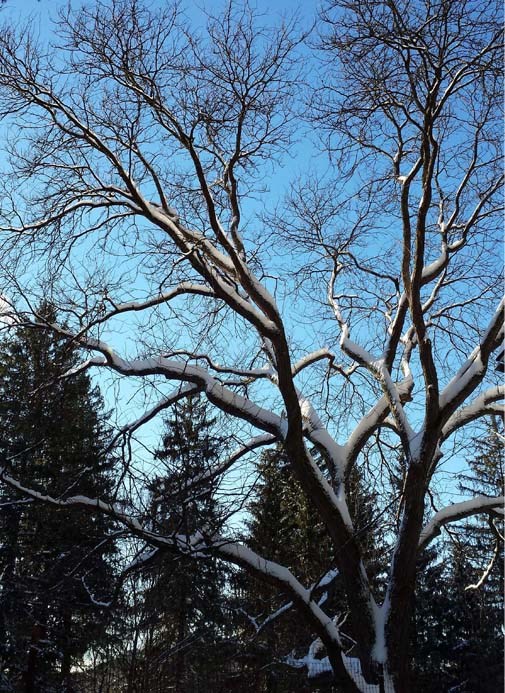 Trees in Winter
One of the earliest signs that winter is on its way is the colorful show the leaves of deciduous trees display as the days become shorter and autumn sets in. Each year Vermont's trees put on a spectacular show that is hard to find in other regions of New England. This is because Vermont boasts a higher diversity and greater number of trees whose leaves turn many shades of yellow, orange, red, purple, and golden hues. And while the sight is beautiful for people to enjoy, it is also an important survival strategy the trees employ.The colors we see are signs that the leaves are no longer getting enough sunlight to produce the energy the tree needs and soon, they will begin to die and fall off as the tree prepares for winter.
In order to prepare for colder temperatures, significant snowfall, and a reduction in sunlight, deciduous trees, like maples, birches, and oaks, shed their leaves and store energy for next spring. If these trees kept their leaves all winter they would be in danger of breaking branches under the weight of the snow that would collect on their leaves and of losing precious water that the leaves hold. So for much of the winter, deciduous trees will remain bare. The exceptions are beech trees; the leaves will die, but will remain on the branch a golden brown color, for most of the winter.
Coniferous trees or evergreen trees, as the name implies, will stay green straight through the winter months. Pine, Spruce, and Hemlock trees are all conifers and they provide important resting stops for many animals during winter. Conifer trees have needle shaped leaves that are covered in a thick waxy coating that prevents water from escaping. In this way, coniferous trees can produce energy through photosynthesis all year.Also, the rounded shape of the needle allows snow to slide off with little damage to the tree. Due to their thick canopies, often the ground under these trees has less snow on it, providing a warmer place for animals like deer to rest.
Last updated: December 10, 2019