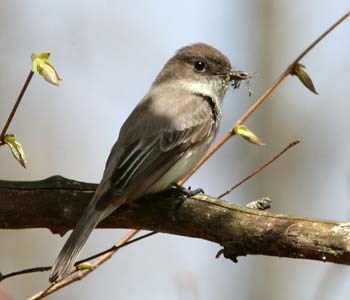 A number of bird species live within the park boundaries. These range from seasonal visitors, to others just passing through, to those species that live year round in Vermont. A number of different song birds can be heard during the summer, including the Hermit Thrush, Vermont's state bird. On the Pogue, the park's 14-acre pond, Great Blue herons fish for bass. At night, the forest is the home of many different owl species, including the Barred owl, which is commonly seen in the park.

► Print out a Bird Checklist grab your binoculars and put your results into eBird after exploring the park's trails and birds!
Thanks to the
NPS Inventory and Monitoring Program's Northeast Temperate Network
(NETN), we now have a bird checklist for the park in a downloadable pdf file. The data for the checklist came from the Network's breeding bird monitoring program, the NPSpecies database and hundreds of
eBird
checklists for the park.
Way to go Northeast Temperate Network and
citizen scientists
!
The park has a wide variety of habitats and birds and great trails to hike to to get to them. Our forestry program ensures habitat for some early successional species as well as conserving forest bird habitat.