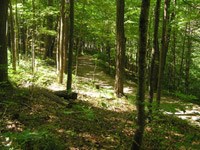 "Responsible stewardship of our environment may be our only guarantee that in the pursuit of our happiness we do not burn out like a shooting star - but pass on to each successive generation the special places and experiences that have shaped our character and nurtured our souls." Rolf Diamant, Park Superintendent (Retired).
Marsh-Billings-Rockefeller National Historical Park includes 550 acres of managed woodlands on the slopes of Mount Tom, and just as the replanting and management of the forest was a labor of love for Frederick Billings, the continued management of the land is an important part of the park's mission.
Today, the woods that cover Mount Tom stand as both a model of scientific forestry practices and a beloved public resource. The National Park Service provides stewardship of the land, emulating the property's earlier owners and utilizing current best practices for forest stewardship activities. The trails and carriage roads Billings built on the mountain in the nineteenth century to encourage the public to view his managed forest, have welcomed visitors to Woodstock and members of the local community ever since. The deed of gift by which the National Park Service took on the property prohibits camping, campfires, mountain biking, snowmobiling and motorized vehicles.
Continued responsible stewardship of the park's forestlands will ensure that they will remain intact for subsequent generations to observe. In this woodland landscape, ecologists of the future may discover the same inspiration that George Perkins Marsh found as a child, a connection between human action and the health of the natural world.

► Read Forest Health Monitoring Update for Marsh-Billings-Rockefeller NHP: 2006 - 2018