Media Room GPM 150

Landscapes of Hope
Celebrating the 150th Anniversary of Man and Nature 1864-2014 Contact: Christina Marts (802) 457-3368 x 231 e-mail us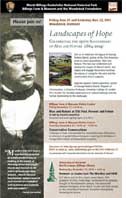 MORE ABOUT GEORGE PERKINS MARSH

♦ The book, Man and Nature

♦ George Perkins Marsh address to the Agricultural Society of Rutland County, 1847 WSU Press.

♦ "George Perkins Marsh, Prophet of Conservation" http://www.washington.edu/uwpress/search/books/LOWGEO.html

♦ George Perkins Marsh Quotes

♦ Visit the University of Vermont's George Perkins Marsh Online Research Center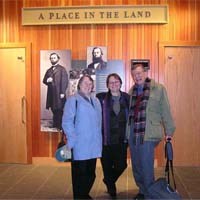 MORE ABOUT DAVID LOWENTHAL

Speaker David Lowenthal is the author of George Perkins Marsh: Prophet of Conservation (2000), The Past is a Foreign Country (1985), The Heritage Crusade and the Spoils of History (1996), and The Nature of Cultural Heritage and the Culture of National Heritage (2005).

♦ Mr. Lowenthal's bio

♦ David Lowenthal at 90 http://www.geog.ucl.ac.uk/about-the-department/news/news-archive-2013/april-2013/david-lowenthal-at-90

♦ Man and Nature Op Ed by David Lowenthal download Nature and Morality From George Perkins Marsh to the Millennium

ADDITIONAL RESOURCES

♦ Video: From the Hills of Vermont

♦ George Perkins Marsh Birthplace: Marsh-Billings-Rockefeller NHP

♦ Park Photos: Flickr Marsh-Billings-Rockefeller NHP

Video Trailer: A Place in the Land is the story of George Perkins Marsh, Frederick Billings and Laurance S. Rockefeller, three seminal figures in the history of the conservation movement in America.

♦ History of Conservation Timeline

George Perkins Marsh 150th NEWS STORIES

MB National Park to Celebrate 150 Years of 'Man and Nature'
The Vermont Standard, Virginia Dean, Nov 17, 2014

TV Station WCAX
Interview with Michael Creasey, Previous Superintendent Marsh-Billings-Rockefeller NHP
---
PHOTOS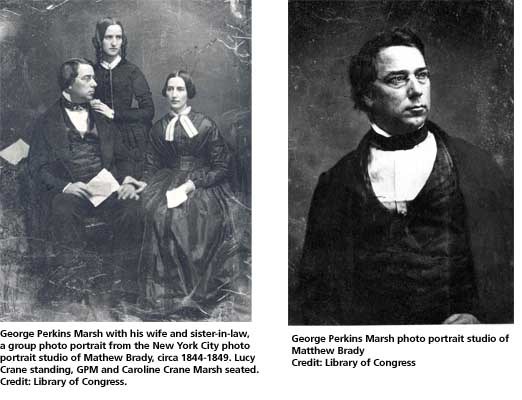 PHOTOS
---
EVENT
Landscapes of Hope, Celebrating the 150th Anniversary of "Man and Nature" (1864 - 2014)
Friday, Nov. 21 and Saturday, Nov. 22
Woodstock, Vermont. The Billings Farm & Museum and Marsh-Billings-Rockefeller National Historical Park.
Keynote Speaker David Lowenthal, Emeritus Professor, University College of London, author of
George Perkins Marsh: Prophet of Conservation
Press Forum Invitation Schedule Friday Nov. 21:
♦ 1 p.m. Press Tour of the George Perkins Marsh birthplace, now Marsh-Billings-Rockefeller National Historical
Park.
♦ 2:30 - 4 p.m. Invitation only Salon session with David Lowenthal at the Park's Forest Center. Part oral history,
part commentary, this session will provide an intimate opportunity for participants to explore the George
Perkins Marsh story and how it relates to contemporary environmental issues. A hors d'oeuvres reception will follow.
Public Event Schedule: Nov. 21- 22
Friday, November 21 ♦ 6 PM Man and Nature at 150: Past, Present and Future, A talk by David Lowenthal
Billings Farm & Museum Visitor Center
Reception and book signing begins at 5:00 PM

Saturday, November 22 ♦ 9 AM - noon Conservation Conversations
Billings Farm & Museum Visitor Center
A dialogue of hope and inspiration for stewardship today, followed by an afternoon of guided hikes and
programs exploring the birthplace of George Perkins Marsh and stewardship in practice.
Guided walks Saturday, 1 - 3 PM
♦ Ideas Take Root. A walk in the managed forests inspired by Marsh's teachings and an exploration of how his work still influences forest management practices. With park Resource Manager Kyle Jones.
♦ Sustainability at the Homestead Today: Explore the green building and sustainability features of the park; the LEED platinum certified Forest Center, solar and garn energy systems, and the park's composting facility. With park Facility Manager John Gilbert.
♦ Mansion Tour: Explore a 19th century Victorian mansion, boyhood home of George Perkins Marsh, and later, home to the Billings and Rockefeller families, all who left a legacy of conservation on this landscape.
OTHER RELATED EVENTS

University of Vermont
North Lounge, Billings Library
Wednesday, November 19, 2014 ♦ 6 PM
Vermont as Genius Loci: the Marshes & UVM
G. P. Marsh and his first cousin James Marsh, fifth president of UVM, made major contributions to scholarly thought in the nineteenth century. This lecture will examine the legacy of the Marsh cousins and their impact on the University of Vermont. Reception immediately following the lecture.
---
Last updated: March 5, 2019