Frederick Billings (cont.)
In 1869, Billings bought the farm that had once belonged to the Marsh family, renovated the large Federal-style brick mansion and began buying up additional land. Soon he had established a scientifically managed herd of Jersey cows that other farmers could look to in running their own dairies. He decided to return Mount Tom to verdant forestland, using progressive forestry methods and planting European tree species that would thrive in his managed woodland park. He created a network of carriage roads and trails with scenic vistas from the forest. On his Woodstock estate Billings attempted to create a template for farming, timber harvest, and recreation, without ruining the land.
While he was improving his Woodstock property, he was also heading up the Northern Pacific Railroad and directing its successful transcontinental completion. During his tenure at the railroad, Billings advocated the promotion of Western scenery as tourist destinations, and the protection and reclamation of railroad lands through tree planting and experimental farming. By acquainting Americans with their country's natural wonders, he believed, he might inspire protection of these sites.
In 1881, Billings left the Northern Pacific Railroad to devote himself full-time to his Woodstock projects. He was aided in this work by George Aitken, a native Scot and accomplished farmer who managed the Billings Farm from 1884 until his death in 1910. A proponent of scientific agricultural techniques, Aitken became an invaluable member of the Billings estate staff, responsible for building the farm into a model of progressive dairying. Aitken was also appointed forest manager and helped Billings realize his dream of reforesting Mount Tom. They planted hardy European species that would thrive in the Vermont climate and developed the healthy forest and tree plantation that visitors see on Mount Tom today.
Frederick Billings put many of his ideas about forestry management into practice as a leading member of Vermont's forestry commission. The state began undertaking reforestation projects in line with Billings' and Aitken's vision and by the time Billings died in 1890, his state-of-the-art woodlots, dairy farm and creamery were well known across the country.
Continuing a Tradition of Conservation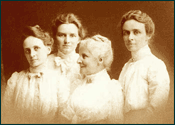 After Billings' death, his wife and daughters took over management of the farm and forest properties. With the help of George Aitken and business manager Samuel Kilner, these independent and accomplished women presided over renovations to the property and the expansion of the forest and farm operations.
Julia Parmly Billings grew up in New York City, among artists, philanthropists, and reformers. John Brown was a guest in the Parmly home during the pre-Civil War years. In her married life Julia shared her interests in the arts and education with her husband; the couple had in common a commitment to philanthropy and religion as well. Mrs. Billings managed the family property until her death in 1914; many of the improvements to the house and gardens were carried out at her request.
In 1893, the Billings Farm took top honors at the World's Columbian Exposition in Chicago. The Billings' daughters - first Laura, and later Mary and Elizabeth - took up the responsibility for managing the estate after their mother's death. Julia's granddaughter, Mary French, married Laurance Spelman Rockefeller in 1934, and the couple inherited the farm and properties in the 1950s.


Last updated: February 26, 2015