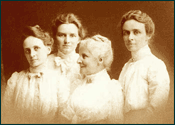 After Billings' death, his wife and daughters took over management of the farm and forest properties. With the help of George Aitken and business manager Samuel Kilner, these independent and accomplished women presided over renovations to the property and the expansion of the forest and farm operations.
Julia Parmly Billings grew up in New York City, among artists, philanthropists, and reformers. John Brown was a guest in the Parmly home during the pre-Civil War years. In her married life Julia shared her interests in the arts and education with her husband; the couple had in common a commitment to philanthropy and religion as well. Mrs. Billings managed the family property until her death in 1914; many of the improvements to the house and gardens were carried out at her request.
In 1893, the Billings Farm took top honors at the World's Columbian Exposition in Chicago. The Billings' daughters - first Laura, and later Mary and Elizabeth - took up the responsibility for managing the estate after their mother's death. Julia's granddaughter, Mary French, married Laurance Spelman Rockefeller in 1934, and the couple inherited the farm and properties in the 1950s.