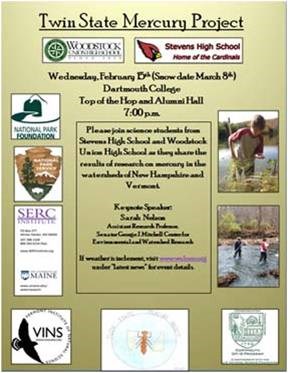 2012 - Freshmen Present Research at Dartmouth

Science students from Stevens High School and Woodstock Union High School shared the results of research on mercury in the watersheds of New Hampshire and Vermont on February 15th at Dartmouth College.

2011 - Freshmen Present Research at Dartmouth

They may only be freshmen environmental science students, but they have already presented their research to much acclaim at an Ivy League School.

On Wednesday, February 23, 47 of Ms. Stainton's Integrated Environmental Science students traveled to the top of the Hopkins Center at Dartmouth College to discuss the results of the Mercury Research project they conducted at Marsh-Billings-Rockefeller (MBR) National Historical Park this fall. Not only was the space an ominous one, but the audience was at capacity as well. The students presented their posters to parents, WUMS/MS staff, Dartmouth faculty and representatives of both MBR and Acadia National Parks who walked around to query students and view the results of the studies.
"They did authentic research and they did an exceptional job sharing it with the community,' Middle school teacher Melissa Fellows explained after the event.

To conduct their research, students developed testable questions to find answers related to mercury in the environment. They collected dragonfly nymphs, leaf litter, and soil from the Pogue in the National Park. They also collected hair samples from students and willing community members to compare the mercury levels in humans as well. The samples were then sent off to Dartmouth College where they were freeze dried, digested in acid, nebulized and analyzed by Mass Spectroscopy in the Trace Element Analysis Laboratory. Once the results were received, students used the data to determine if their hypotheses were correct.
According to Ms. Stainton, the project was a collaborative effort with research done by students here and from Stevens High School in Claremont, New Hampshire. Both schools had the benefit of a graduate student from Dartmouth helping out in the classroom as a scientific expert. Bob Garr was assigned to WUHS and Stainton notes that, "His help was key in the completion of this project," adding, "My students love having him in my class!"

Oliver Kaija's group's hypothesis was that the mercury levels would increase from leaf litter to soil, to dragon fly larvae, to human hair. In the end he notes that, "Our hypothesis was not completely supported." It turns out there was more mercury in the soil than they expected but he also observed that with just three soil collection sites and the results of the sites quite different, more collections sites would likely have lead to more concrete averages. "I really liked this project," Kaija explains adding, "It was nice to see it all come together. We got the entire picture of the scientific method."

Elizabeth Kamb's group studied mercury levels in humans by analyzing human hair samples. In particular she notes, "Our hypothesis was trying to see if the mercury level was different in omnivores vs. vegetarians. We thought it would be greater in omnivores." While they essentially proved their hypothesis, she notes that their sample size was really too small (two omnivores and one vegetarian). Her group recommends that future studies include larger samples. However, she was pleased with this long term project, "It kind of inspired the science in me...I like science more because of it."
While the presentations are over, the research continues. "Students are writing letters to next year's 9th graders about their projects," explains Stainton. She says they are emphasizing greater sample sizes and other things they have learned from this process to help the students who will continue the study next year. "These 9th graders presented their authentic science research to the public in a professional and educated manner. I feel honored to teach this group of students, and I am extremely proud of them for aiming high and working hard," she concludes.

---