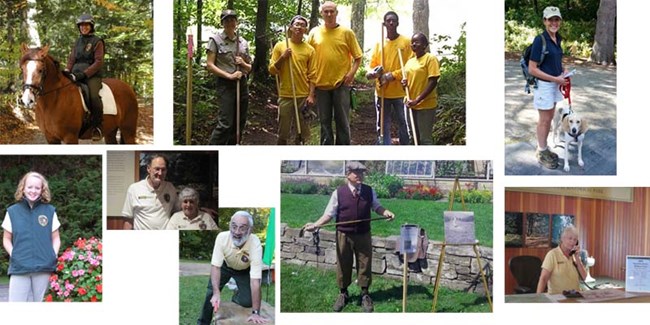 Welcome to the Volunteers-In-Parks Page!

The volunteer program at Marsh-Billings-Rockefeller National Historical Park brings together many valued, diversely talented, and dedicated volunteers. They are engaged in a variety of activites that help provide the highest quality park experience for visitors, and that express a depth of stewardship vital to the park's mission. Contact us at 802 457 3368 ext 222.
You're invited to join thousands of people of all ages, all over the country who volunteer in their National Parks.
Here at Marsh-Billings-Rockefeller National Historical Park, we welcome volunteers who wish to work indoors or outdoors, to help with regular weekly shifts, or participate in one-time events.
As a volunteer, you'll be offered appropriate training and you'll always have an easy way to contact park staff when necessary.
You may be asked to wear a uniform shirt, which the park will supply, while on duty.
You may be issued other clothing items if needed.
You'll be supplied with any tools or equipment you need for the job in hand.