Hip waders on? Check. Data sheets in hand? Check? Sterile gloves, ziplocs, and spoons? Check. Macro-invertebrate guides? Check. Willingness to wade in the muck of the Pogue with a net and autumn leaves drifting down? Check.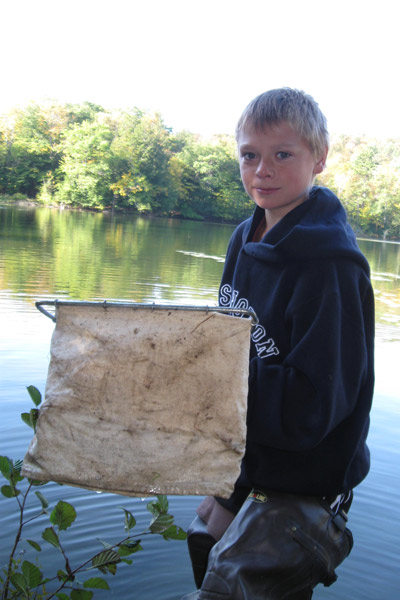 Environmental Science students from both Woodstock Union High School and Stevens High School (in Claremont, NH) are participating in a joint research project funded by the National Park Foundation and supported by Dartmouth College, the Schoodic Education and Research Center, and Saint Gaudens and Marsh-Billings-Rockefeller National Historical Parks.

Students will become stewards of the environment by developing testable hypotheses about how mercury moves through the environment with a focus on dragonflies. So, armed with all of the necessary equipment, students took to the water to collect dragonfly nymphs that will be sent off to Dartmouth for analyzing. This process will involve freeze drying, digesting them in acid, nebulizing and analyzing by Mass Spectroscopy in the Trace Element Analysis Laboratory. Once the results are received, students will use the data to determine if their hypotheses are correct.

On January 23, students will present their findings in a poster presentation at Dartmouth-check back later in the year for more details about this exciting event!