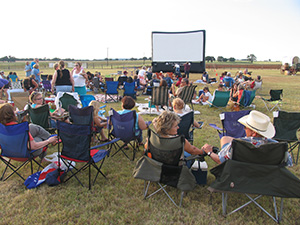 News Release Date:
July 7, 2017
Contact: Dave Schafer, 830-868-7128 x 235
Johnson City, Texas -- Lyndon B. Johnson National Historical Park continues its popular outdoor summertime movie series on Saturday, July 15, with the showing of "You Only Live Twice," starring Sean Connery and Donald Pleasence. The film starts at dusk and will be presented on a large outdoor screen at the LBJ Ranch near Stonewall. Access to the ranch begins at 7:00 pm. A movie trivia contest will precede the film with prizes provided by Western Parks National Association given out to lucky contest winners.  
This year marks the 50th anniversary of "You Only Live Twice." Released in 1967, it is the fifth spy film in the James Bond series, and the fifth to star Sean Connery as the fictional MI6 agent James Bond. The film's screenplay was loosely based on Ian Fleming's 1964 novel of the same name. James Bond (Agent 007), is dispatched to Japan after an American and Soviet manned spacecraft disappear mysteriously in orbit. With each nation blaming the other amidst the Cold War, Bond travels secretly to a remote Japanese island to find the perpetrators, and comes face-to-face with Ernst Stavro Blofeld, the head of SPECTRE. SPECTRE is working for the government of an unnamed Asian power, implied to be the People's Republic of China, to provoke war between the superpowers.  
The Johnsons enjoyed inviting guests to their ranch to show some of the biggest films of the 1960s and early 1970s. For modern visitors, the "Movie Under the Stars" series is a great way to enjoy timeless classics while experiencing a night of family fun on the LBJ Ranch—just like friends of the Johnsons experienced.      
Guests are encouraged to bring lawn chairs, blankets, and refreshments. The program is offered free of charge. Entry to the LBJ Ranch is located north of US Highway 290, just off of Ranch Road 1. Parking is available on the airstrip taxiway adjacent to the movie site.  
The LBJ Ranch hangar visitor center will be open from 7:00 pm through the end of the film. Visitors are welcome to explore the interactive exhibits and shop the Western National Parks Association sales outlet.  
Lyndon B. Johnson National Historical Park is open seven days a week from 9:00 am to 5:00 pm. For more information call 830-868-7128 ext. 231 or 244, or visit
www.nps.gov/lyjo
and
www.facebook.com/LBJohnsonNPS
.
More than 20,000 National Park Service employees care for America's 418 national parks and work with communities across the nation to help preserve local history and create close-to-home recreational opportunities. Visit us at
www.nps.gov
, on Facebook
www.facebook.com/nationalparkservice
, Twitter
www.twitter.com/natlparkservice
, and YouTube
www.youtube.com/nationalparkservice
. For more information on the NPS Centennial visit
www.nps.gov/subjects/centennial/index.htm
.