Wreathlaying_Ceremony_2016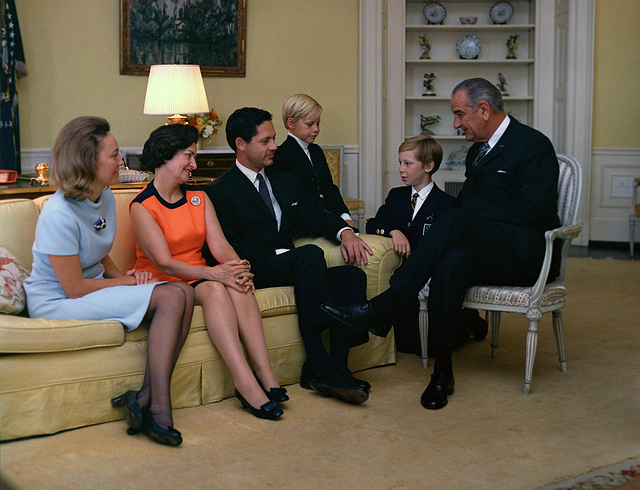 News Release Date:
August 11, 2016
Contact: Dave Schafer, 830-868-7128 ext. 235
JOHNSON CITY, TEXAS –Lyndon B. Johnson National Historical Park will celebrate the 108th anniversary of President Johnson's birth with a ceremony at 10:00 am on Saturday, August 27. Continuing a tradition that Lady Bird Johnson began in 1973, a wreath will be placed at the president's gravesite in the Johnson family cemetery at the LBJ Ranch. Park Superintendent Russ Whitlock and Brigadier General Heather L. Pringle will place the wreath. After remarks by Superintendent Whitlock and General Pringle, park staff members will commemorate the National Park Service Centennial by reading the names of the 47 national park units established during Lyndon Johnson's presidency. Tyler and Bess Abell, a husband and wife team who worked for President and Mrs. Johnson, will conclude the ceremony with their remarks.

While serving as social secretary to Lady Bird Johnson from 1963 to 1969, Bess Abell observed many significant events at close range. Among her duties when the Johnsons were at the LBJ Ranch, Bess helped organize the large Texas-style barbecues that the Johnsons hosted. She was preparing for a barbecue at the ranch on November 22, 1963, when news of the Kennedy assassination broke, and she quickly flew back to Washington. Tyler Abell served as the White House's chief of protocol from September 1968 to January 1969.

On August 5, 2016, Brigadier General Heather L. Pringle became the Commander of the 502nd Air Base Wing and Joint Base San Antonio, where she now leads an 8,000-person workforce. General Pringle's previous postings included serving in Afghanistan as the Political Advisor's Staff Director for the International Security Assistance Forces, and in Washington, DC as Executive Officer to the Chief of Staff of the Air Force.

Self-guided tours of the LBJ Ranch and guided tours of the Texas White House will begin after the wreathlaying ceremony. In honor of President Johnson's birthday and the NPS Centennial, tours of the Texas White House will be free from Thursday, August 25 through Sunday, August 28. Tickets are available each day at the LBJ Ranch hangar visitor center. To view the ceremony, visitors should stop first at Lyndon B. Johnson State Park and Historic Site to pick up a free vehicle permit and map. For information on activities at the state park visit:
http://tpwd.texas.gov/calendar/lyndon-b-johnson/lbj2019s-108th-birthday-celebration
. Western National Parks Association (WNPA) will offer 15% discounts in the park's sales outlets on August 25 and 27.

Lyndon B. Johnson National Historical Park is open seven days a week from 9:00 am to 5:00 pm. For more information call 830-868-7128 ext. 231 or 244, or visit www.nps.gov/lyjo and www.facebook.com/LBJohnsonNPS.

More than 20,000 National Park Service employees care for America's 412 national parks and work with communities across the nation to help preserve local history and create close-to-home recreational opportunities. Visit us at www.nps.gov, on Facebook www.facebook.com/nationalparkservice, Twitter www.twitter.com/natlparkservice, and YouTube www.youtube.com/nationalparkservice. For more information on the NPS Centennial visit www.nps.gov/subjects/centennial/index.htm.
Last updated: August 20, 2016