Texas White House Entire First Floor Opens to Public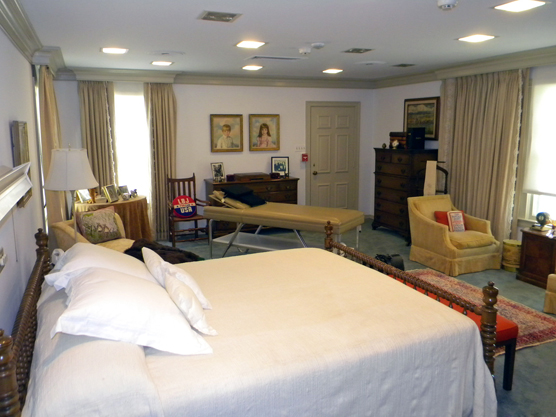 News Release Date:
December 20, 2011
Contact: Liz Lindig, 830-868-7128 ext. 231
STONEWALL,TX - On Sunday, December 11, members of the Friends of LBJ National Park, joined by President Johnson's daughters Lynda Johnson Robb and Luci Baines Johnson, became the first visitors to tour the entire ground floor of the Texas White House.
Included for the first time in the tour were the bedroom suites of President and Mrs. Johnson. The ranch house, which served Presidents, Prime Ministers, Ambassadors, and Heads-of-State, gained fame during the 1960s when President and Mrs. Johnson hosted hundreds of visitors on the LBJ Ranch.
As senator, vice president and president, Lyndon B. Johnson took great pride in sharing his roots, family and friends, and incredible Texas Hill Country scenery with visitors from around the world. President and Mrs. Johnson planned to continue that legacy by donating the LBJ Ranch and Texas White House to the American public in 1972.
While visitors could tour the ranch lands, the Texas White House remained closed to the public through the life of Mrs. Johnson. Following the death of the former first lady in July 2007, the first room, President Johnson's office, was restored to its 1960's appearance and opened for tours in August 2008. In the ensuing years the National Park Service and Friends of LBJ National Historical Park have continued to restore rooms to their former look and furnishing.
Now the National Park Service is inviting the public to experience both the public and private ground floor rooms of the Texas White House. Visitors can step back in time when the kitchen was a-buzz preparing meals for a table of world leaders; they can see the President's dressing room, complete with towels from Air Force One and his signature "open road" style hats; they can visit Lady Bird Johnson's bedroom, which has been preserved in the decor of 2007.
December 22nd, the 99th anniversary of Lady Bird Johnson's birth, is the first day the public will have the opportunity to tour the entire ground floor of the famous Texas White House.
The park offers educational and recreational programs throughout the year. The Texas White House and park facilities in Stonewall and Johnson City are open seven-days-a-week with the exception of Thanksgiving day, Christmas day and New Year's Day. For more information visit the park and Friends websites at nps.gov/lyjo and friendsoflbjnationalpark.org.
Last updated: February 24, 2015