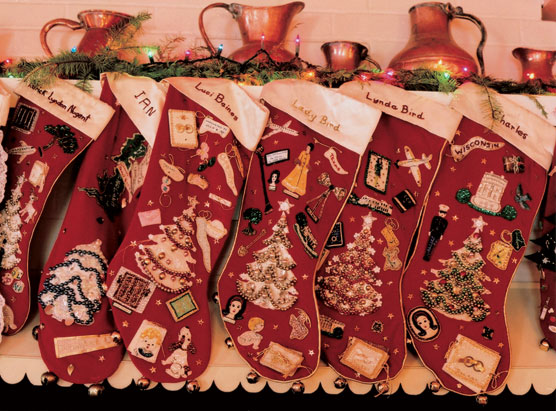 News Release Date:
December 10, 2007
Contact: Valerie Schafer, 580-497-3033
On Sunday, December 16th, Rebecca Rather, Fredericksburg resident and owner of Rather Sweet Bakery and Café, will join the festivities at the annual Tree Lighting at the LBJ Parks in Stonewall. She will be signing copies of her beautiful new cookbook, Pastry Queen Christmas: Big Hearted Holiday Entertaining, Texas Style. She will be signing books from 5:00 p.m. to 6:00 p.m. in the Western National Parks Association (WNPA) bookstore at the LBJ State Park and Historic Site.
Tucked inside this exquisite cookbook is a beautiful tribute to the late Lady Bird Johnson and how Christmas Eve has been a special part of the Johnson Family for many years. An example from the book is of the family mantel covered in stockings for each family member. Ms. Rather describes it as, "Sue [Bellows, Johnson Family chef] also puts up the treasured stockings that once hung at the White House. She calls each stocking, which is made from red velvet with a personalized white satin cuff, a 'work of art and a personal history of its owner'.…Mrs. Johnson's is adorned with the silhouettes of both daughters and her first grandson, Lyndon, as well as a beaded depiction of the White House and the call letters of the family-owned radio station."
In closing this wonderful chapter, Ms. Rather summarizes the meaning of it all to her, "For me, the Christmas spirit centers on food, friends, family, and love. But during the rush and stress of the holidays, I sometimes forget. The Johnson family provides inspiration for all of us to remember what is truly important on Christmas Eve and throughout the rest of the holiday season."
The stories of other local families and time-honored Fredericksburg traditions make this cookbook a perfect gift for both cooks and those who love the season and all it means to the Texas Hill Country. The annual Tree Lighting and LBJ Ranch tours are among those many traditions. Although Mrs. Johnson will no longer light the tree, Johnson family members will continue this long tradition started more than 35 years ago by Former President and Mrs. Johnson. The event begins around 4:00 pm with music and Ms Rather will be on hand to sign copies of her books at 5:00 p.m. The lighting of the Tree takes place around 6:00 p.m. Another holiday tradition is the 15% discount on all purchases in the park store and bookstore that evening. Join us for a special evening!
For more information on any of these activities contact the LBJ State Park and Historic Site at 830-644-2420 or the LBJ National Historical Park at 830-868-7128 x 244. Or check the website at www.nps.gov/lyjo