20th Anniversary of "Apollo 13" Celebrated at the LBJ Ranch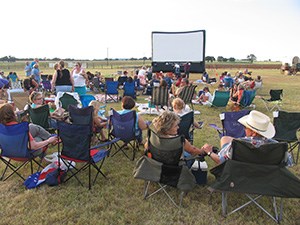 Date:
May 30, 2015
Contact:
Mike Ryan
, 830-385-5338
Johnson City, Texas -- Lyndon B. Johnson National Historical Park continues its popular outdoor summertime movie series on Saturday, June 6, with the showing of the movie "Apollo 13" starring Tom Hanks at the LBJ Ranch near Stonewall. The film starts at dusk and will be presented on a large outdoor screen. Access to the ranch begins at7:00 pm. A movie trivia contest will precede the film. Prizes will be given out to lucky contest winners.
Guests are encouraged to bring lawn chairs, blankets, and refreshments. The program is free of charge. Entry to the LBJ Ranch is conveniently located off Hwy 290 onto Ranch Road 1. Parking is available on the airstrip taxiway adjacent to the movie site.
The Johnsons enjoyed inviting guests to their ranch to show some of the biggest blockbusters of the 1960s. For modern visitors, the "Movie Under the Stars" series is a great way to enjoy timeless classics while experiencing a fun-filled night of family fun on the LBJ Ranch—just like friends of the Johnsons experienced in the 1960s and 1970s.    
This year is the 20th anniversary of "Apollo 13." It was released in 1995, and went on to win two Academy Awards and gross over $350 million at the box office. The film accurately depicts the harrowing efforts to safely return the crew of Apollo 13 to Earth after experiencing massive internal damage. The events occurred during NASA's failed attempt to return to the Moon in April 1970.  
Lyndon Johnson played a critical role in the nation's early space program. Astronauts and NASA officials were frequent guests to the LBJ Ranch. Visitors can learn more about these exciting events through a series of new interactive exhibits located inside the historic Hangar Building at the LBJ Ranch. These exhibits, which include original artifacts and rare film clips, will be available during the night of the movie event.
The "Movie Under the Stars" series will continue on July 11 with "The Sons of Katie Elder" and will conclude on September 12 with the classic "The Sound of Music."
Lyndon B. Johnson National Historical Park is open seven days a week from 9:00 am to 5:00 pm. For more information call 830-868-7128 ext. 231 or 244, or visit www.nps.gov/lyjo and www.facebook.com/LBJohnsonNPS
Last updated: May 30, 2015