Family Unveils Headstone Marking Mrs. Lyndon B. Johnson's Grave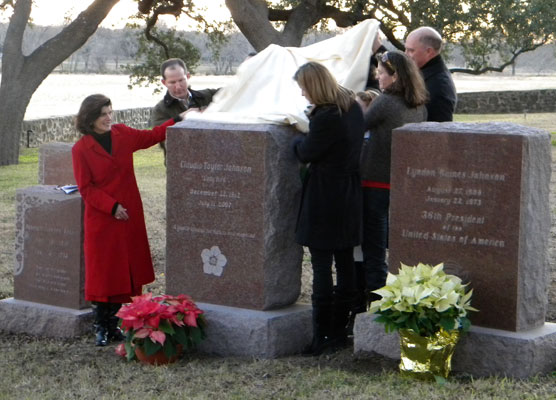 News Release Date:
December 29, 2009
Contact: Sherry Justus, 830-868-7128 ext 245
On Sunday, December 20, members of the Johnson family and invited guests met in the Johnson family cemetery on the LBJ Ranch near Stonewall to unveil the headstone marking the final resting place of Claudia Alta Taylor (known as "Lady Bird") Johnson. Luci Baines Johnson, younger daughter of President and Mrs. Johnson, shared fond memories of her mother, recited a poem, and gratefully acknowledged those in the group such as her mother's former caregivers, staff, pilots, LBJ Ranch employees and cherished friends. Among those gathered were members of the Friends of Lyndon B. Johnson National Historical Park's board of directors, joining in the celebration of Mrs. Johnson's life and abiding legacy.
Family members Luci Johnson and her husband Ian Turpin, son Lyndon Nugent, daughter Nicole Covert and niece Catherine Robb removed the satin cloth covering the headstone. Mrs. Johnson's daughters, Luci Baines Johnson and Lynda Johnson Robb, selected the design and materials. It is made of red granite, removed from the same Fredericksburg, Texas quarry that provided President Johnson's headstone. The two headstones match in height and in shape. The inscription on Mrs. Johnson's stone reads as follows: "Claudia Taylor Johnson, 'Lady Bird,' December 22, 1912, July 11, 2007, 'A gentle heroine to nature and mankind.'" A Texas bluebell, described as Mrs. Johnson's favorite flower, is carved at the bottom of the headstone.
On December 22 of this year, Mrs. Johnson would have celebrated her 97th birthday. She made her home in the "Texas White House" on the LBJ Ranch for 34 years after her husband's passing in January 1973.
Visitors to the LBJ Ranch district of the park can view President and Mrs. Johnson's final resting place from just outside the rock walls of this private family cemetery.
For more information about Lyndon B. Johnson National Historical Park and some of its partners, including the Friends of Lyndon B. Johnson National Historical Park, Western National Parks Association, and LBJ State Park and Historic Site, visit the following web sites: www.nps.gov/lyjo; www.friendsoflbjnationalark.org; www.wnpa.org; www.tpwd.state.tx.us/spdest/findadest/parks/lyndon_b_johnson.
Last updated: February 24, 2015