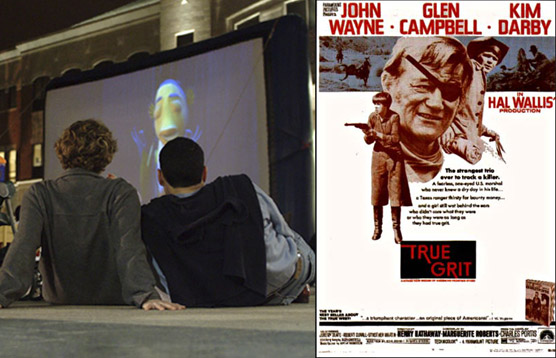 News Release Date:
June 5, 2008
Contact: Sherry Justus, (830) 868-7128, ext. 245
Stonewall, TX – Lyndon B. Johnson National Historical Park invites everyone to come out to the LBJ Ranch on Saturday, June 21, for a free showing of John Wayne's most famous movie, True Grit, as Johnson family friends and neighbors did in the late 1960s. This is the first opportunity for the public to relive the excitement of seeing a classic motion picture under the starry skies above the ranch, a stone's throw away from the Texas White House. True Grit was one of the many movies shown in the Johnson airplane hangar, where the First Family gathered with people from the local communities to enjoy a night of free entertainment. This event commemorates those gatherings as part of the park's centennial celebration of Lyndon Johnson's birth.
True Grit will be presented by Blue Moon Cinemas, a professional outdoor movie company, on a 26 foot tall screen with digital sound. While the show begins at 8:30 pm, the public is encouraged to bring their picnic suppers, lawn chairs and pallets for the kids and enjoy a meal before the show. Free popcorn will be provided by the national historical park.
Everyone is encouraged to dress in their best cowboy attire. There will be a prize for the best John Wayne look-alike costume, to be determined by the audience.
Vehicles should enter at LBJ State Park and Historic Site, one mile east of Stonewall and 14 miles west of Johnson City. National park rangers will be on hand to direct traffic on to the LBJ Ranch beginning at 5:00 p.m.. Parking will be on the ranch airstrip, a short walk from the movie screen.
John Wayne won an Academy Award for his performance as Marshall Reuben J. "Rooster" Cogburn in this film. Glen Campbell also stars as the Texas Ranger who accompanies Cogburn on a manhunt. The movie was released in June 1969 and runs 128 minutes.
For further information or driving directions, please call (830) 868-7128, ext. 231 or 244, or log on to www.lbj100.org. Two July events are upcoming at the national historical park: a July 4th event highlighting LBJ's abiding dedication to civil rights and the second Movies Under the Stars presentation, a showing of Oliver!, a musical adventure appealing to children and families alike.