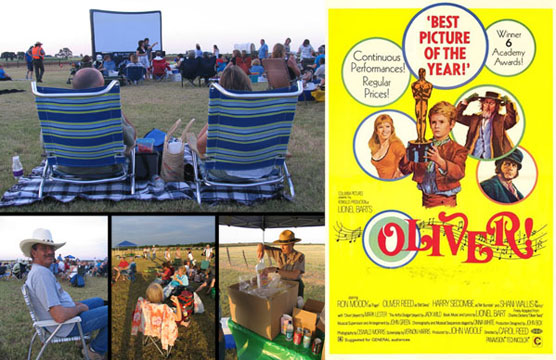 News Release Date:
July 8, 2008
Contact: Sherry Justus, 830-868-7128, ext. 245
Stonewall, TX – Lyndon B. Johnson National Historical Park's second free movie night on the LBJ Ranch features the Oscar-winning Best Picture of 1968, Oliver! The movie will be shown on Saturday, July 26, with a rain date of the following evening, July 27. This Hollywood adaptation of the Charles Dickens classic is a movie musical perfect for children and older folks as well. This is a film that Johnson family, friends and neighbors saw in the ranch airplane hangar in the late 1960s, a stone's throw away from the famed "Texas White House."
Oliver! will be presented on a 26 foot tall screen with digital sound. The public is encouraged to bring their picnic suppers, lawn chairs, and flashlights. Free popcorn and Coca-Cola products will be provided by the national historical park. The show will begin at approximately 8:45 p.m. The running time for Oliver! is 153 minutes.
Oliver! also won four other Academy Awards. Roger Ebert, film critic for the Chicago Sun-times, wrote in December, 1968: "It is very nearly universal entertainment, one of those rare films like The Wizard of Oz that appeals in many ways to all sorts of people. And as a work of popular art, it will stand the test of time…as well-made as a film can be."
Children are encouraged to brush up on their singing abilities and deliver a song before the show begins. There will be a prize for the best singer, to be determined by the audience.
Vehicles should enter at LBJ State Park and Historic Site, one mile east of Stonewall and 14 miles west of Johnson City. National park rangers will be on hand to direct traffic onto the LBJ Ranch. Parking will be on the ranch airstrip, a short walk from the movie screen. The LBJ National Historical Park gates open at 7:00 p.m.
For further information or driving directions, please call (830) 868-7128, ext. 231 or 244, or log on to www.lbj100.org. The third "Movies Under the Stars" presentation, Guess Who's Coming to Dinner, the powerful Spencer Tracy-Katharine Hepburn-Sidney Poitier drama, will be screened on August 9.