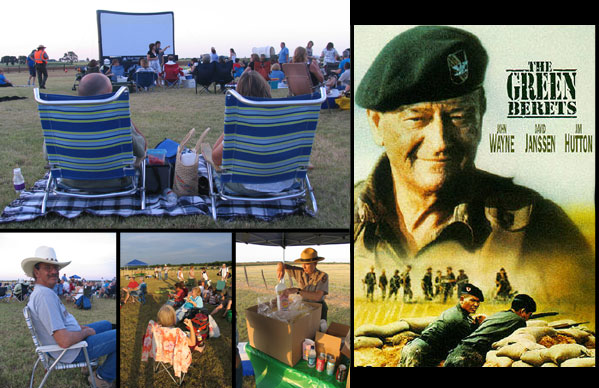 News Release Date:
July 3, 2009
Contact: Sherry Justus, (830) 868-7128 ext 245
Lyndon B. Johnson National Historical Park invites the public to view a Hollywood version of the war in Vietnam on Saturday, July 18 at 9 p.m. by attending a screening of The Green Berets, co-directed by and starring John Wayne.
Wayne plays Colonel Mike Kirby, who handpicks two crack teams of expert Green Berets for a very tough mission that includes kidnapping a North Vietnamese general. The movie, which also stars David Janssen, Jack Soo and Aldo Ray, was made at Fort Benning, Georgia and had its premiere in Atlanta on July 4, 1968. It runs 141 minutes.
The movie will be projected onto an 18 by 25 foot outdoor screen that includes a professional sound system. In the event of rain, the movie will be shown on Sunday, July 19, also at 9 pm. Free refreshments will be provided to enhance viewing enjoyment.
President and Mrs. Lyndon B. Johnson often invited friends and neighbors to attend movie showings in their airplane hangar, which also served as a location for press conferences and family gatherings. At the end of May, 1969, the Johnsons and their guests watched The Green Berets in this now historic location. It is a film of its time and was chosen because the Johnsons viewed it, not as an endorsement of its content.
The public can drive on to the LBJ Ranch beginning at 7:30 pm with free parking on the taxiway adjacent to the ranch airplane hangar. Everyone should bring his own choice of seating, and picnicking before and during the movie is permitted.
The next film in the Movies Under the Stars series is Thunderball, starring the original James Bond, Sean Connery, on Saturday, August 29.
For further information and driving directions, please call (830) 868-7128, ext. 244.