Date:
August 22, 2014
Contact:
Dave Schafer
, 830-868-7128 x 235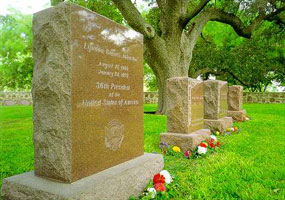 Stonewall, Texas—Lyndon B. Johnson National Historical Park will celebrate the 106th anniversary of President Johnson's birth on Wednesday, August 27. This free celebration begins at 10:00 a.m. with the laying of a wreath on his gravesite in the Johnson family cemetery on the LBJ Ranch. Following the ceremony at the cemetery, the activities continue at the LBJ Ranch Airplane Hangar, where new exhibits will be dedicated and a new orientation film of the Texas White House will be shown at 11:30 pm. Visitors are invited to enjoy refreshments from 11:00 am to 1:00 pm as they browse exhibits exploring President and Mrs. Johnson's contributions to space exploration, civil rights, and the environment. 1960s telephones will allow visitors to listen in on President Johnson's conversations, and children will enjoy hands-on exhibits about the flora and fauna of the Johnsons' beloved Hill Country home. The new orientation film has been produced by the production company Klein Villarreal.
Guided tours of the "Texas White House," President and Mrs. Johnson's home on the ranch, will also begin in the airplane hangar/visitor contact station following the graveside ceremony. Fees for the tour are normally $3.00 for persons 18 and older, but will be waived on August 27th to commemorate President Johnson's birthday.
To participate in the festivities, visitors should stop first at the Lyndon B. Johnson State Park and Historic Site located just off U.S. Highway 290, 14 miles west of Johnson City or one mile east of Stonewall. There visitors can pick up a free vehicle permit and map in order to tour the LBJ Ranch in their own private vehicles. They also have the option to purchase a CD to narrate their tour of the LBJ Ranch.
For more information on this and other park events, view nps.gov/lyjo or call (830) 868-7128, ext. 231 or 244.