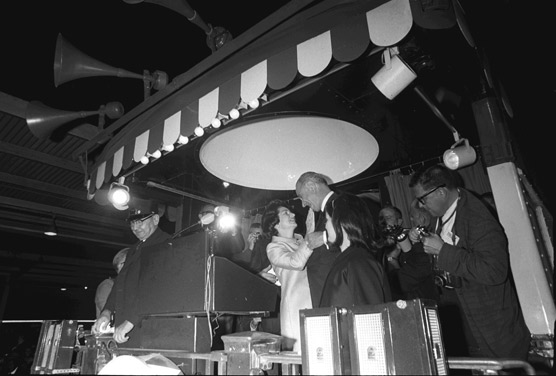 News Release Date:
March 9, 2012
Contact: Liz Lindig, 830-868-7128 ext 231
Johnson City, TX: Lyndon B. Johnson National Historical Park proudly announces the opening of a new exhibit recognizing the Lady Bird Johnson Centennial Celebration that continues throughout 2012. This exhibit will be on display in the Park's Visitor Center at 100 E. Ladybird Lane in Johnson City through December 22, the anniversary of the First Lady's 100th birthday. The exhibit shares stories and photographs of Mrs. Johnson from her childhood to her death in 2007. The exhibit themes include her campaign through the South on the 1964 "Whistle Stop" tour and her love of nature and the outdoors.
Aboard a train named the Lady Bird Special, Mrs. Johnson traveled through eight southern states in a four-day, 1628-mile campaign trip. She was stumping for her husband's presidential campaign and reaching out to her fellow southerners upset by Johnson's Civil Rights Bill.
Panels highlight her visits to national parks in Texas: Big Bend National Park, Padre Island National Seashore, and Fort Davis National Historic Site. Most historians agree that President Johnson's record fifty national park bills, more than any President in history, is attributable to Lady Bird's influence. Mrs. Johnson's press secretary, Liz Carpenter said, "If she visited a national park, the tourist numbers tripled within a week. If she took a raft ride, this became the "in" thing to do."
The Visitor Center at Lyndon B. Johnson National Historical Park is open seven days a week, 8:45 a.m. to 5:00 p.m. There is no cost to see any of the exhibits, movies, or for tours of the Boyhood Home of President Johnson.