Date:
September 22, 2007
Contact:
Sherry Justus
, 830-868-7128 ext. 245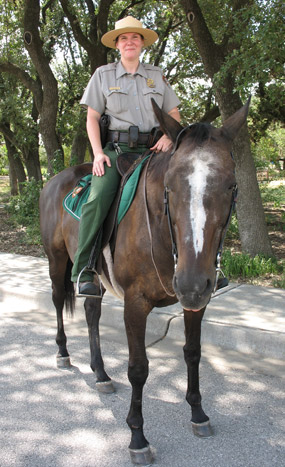 Up until recently, park rangers patrolling here in Johnson City and on the LBJ Ranch could be found on foot and in vehicles only. But when Alison Bullington transferred to the park from Bandelier National Monument in New Mexico, she brought with her fifteen years of mounted horse patrol experience and her own horse, Zoe.
Beginning with patrols on horseback in the Johnson Settlement, Ranger Bullington saw an additional opportunity when Bandelier was looking for a less strenuous home for an older horse named Poco. Now Poco has joined Zoe in assisting Bullington in both park districts, both with routine patrolling and for special occasions like the Spange-Dangle's Fourth of July Parade in Johnson City. Zoe and her owner were in their most formal attire during the cortege for Mrs. Lyndon B. Johnson in July: the horse sported her white polo wraps and the rider wore her white dress gloves and tall English riding breeches and boots.
"Horse patrol is a wonderful way to get out into the park and talk with visitors, says the riding ranger. "There is something about a horse that just gets people's attention."
There are now two other horses in the park's stable, Penny and Reprimand. Reprimand spends his time at the Johnson Settlement, west of the James Polk Johnson Barn, keeping company with Zoe. Penny and Poco enjoy the wide open spaces of the ranch most of the time.
Ranger Bullington and her equine partners have worked together at park special events in 2007, including the Volkssportverein Friedrichsburg Volksmarch in March and the Vietnam Bird Dog Invitational Fly-in in May, both held on the LBJ Ranch. In 2008, the national historical park will celebrate Lyndon Johnson's Centennial Year with 14 or more special events, including ranch bike tours and outdoor movies "under the stars," a Texas Book Festival and a 1960s-themed barbecue in the famous live oak grove used by President and Mrs. Johnson for their entertaining. A highlight for many participants during these events will be "the ranger on the horse," so bring your kids and get your cameras ready as we say Happy 100th Birthday to LBJ!