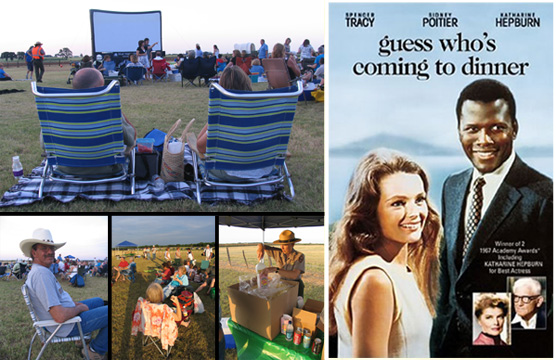 News Release Date:
August 6, 2008
Contact: Sherry Justus, 830-868-7128 ext. 245
The third and final free movie night for this summer season will be presented by Lyndon B. Johnson National Historical Park on Saturday, August 9, with a rain date of the following evening, August 10. Guess Who's Coming to Dinner, the classic Spencer Tracy-Katharine Hepburn comedy-drama that also stars a young Sidney Poitier, is the original version that Johnson family, friends and neighbors saw in the ranch airplane hangar in the late 1960s. This movie night is generously underwritten entirely by H-E-B, the Texas supermarket chain whose donation of an enormous cake to the Johnsons began the movie night tradition on the LBJ Ranch more than 40 years ago.
The show will be produced by Blue Moon Cinemas, a professional outdoor movie company, on their 26-foot screen with digital projection and sound equipment. The public is encouraged to bring their picnic baskets, lawn chairs and pallets for the kids and flashlights and enjoy a delicious picnic supper before the show. Free popcorn and Coca-Cola products will be provided by the national historical park, and Bluebell Creameries is supplying free vanilla ice cream. Gates to the ranch open at 7 p.m., and the show will begin at approximately 8:45 p.m., when the sky darkens sufficiently. The movie has a running time of 108 minutes.
When it opened in 1967, Guess Who's Coming to Dinner was billed as "a love story of today." The plot involves the engagement of an accomplished African-American doctor--played by Sidney Poitier--and the white daughter of a liberal, affluent San Francisco couple (Tracy and Hepburn). Controversial in its day for its interracial love story, the film received a rave review in the show business weekly Variety, which called it "an outstanding…production, superior in almost every imaginable way, which examines its subject matter with perception, depth, insight, humor and feeling. Spencer Tracy and Katharine Hepburn head a perfect cast."
Katharine Hepburn won the Academy Award for Best Actress, and the movie itself won for Best Screenplay (by William Rose).
Vehicles should enter at LBJ State Park and Historic Site, one mile east of Stonewall and 14 miles west of Johnson City. Signs will direct traffic onto the LBJ Ranch. Parking will be on the ranch airstrip, a short walk from the movie screen, and a stone's throw from the famous Texas White House.
For further information or driving directions, please call (830) 868-7128, ext. 244, or log on to www.lbj100.org where you can find information about other LBJ Centennial events, including the opening of the Texas White House to the public on August 27.