News Release
50th Anniversary of "Chitty Chitty Bang Bang" to be Celebrated at the LBJ Ranch in "Movies Under the Stars" Series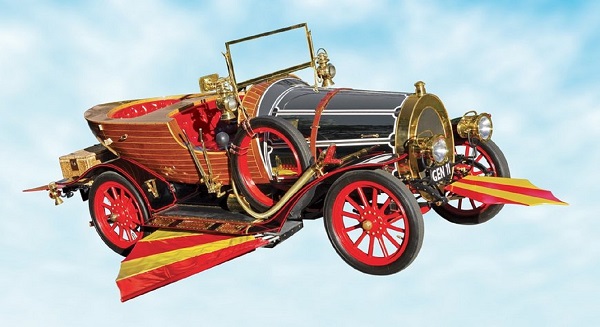 News Release Date:
September 11, 2018
Contact: Dave Schafer, 830-868-7128 ext. 235
The film scheduled for September 22 will take place, however due to the forecast of rain, the movie will be shown in the theater of the historic LBJ Ranch hangar. Please join us Saturday for "Chitty Chitty Bang Bang." Gate opens at 6:30 pm. Movie at 7:30 pm.

Johnson City, Texas -- Lyndon B. Johnson National Historical Park concludes this year's popular outdoor "Movies Under the Stars" series on Saturday, September 22, with the screening of "Chitty Chitty Bang Bang." A fun and whimsical film, the movie was advertised as the "most fantasmagorical musical entertainment in the history of everything!" Set in early twentieth century England, the movie features a retired racing car that an eccentric inventor transforms into a magical flying car. The film starts at dusk and will be presented on a large outdoor screen at the LBJ Ranch near Stonewall. Access to the ranch begins at 6:30 pm.
This year marks the 50th anniversary of "Chitty Chitty Bang Bang." Released in 1968, the film stars Dick Van Dyke, Sally Ann Howes, Lionel Jeffries, and Benny Hill, among others. The film's plot revolves around a family's adventure to the far-off land of Vulgaria while trying to rescue the children's grandfather. Inspired by an Ian Fleming novel, the film delighted audiences and became a box office hit.
The Johnsons enjoyed inviting guests to their ranch to show some of the biggest films of the 1960s and early 1970s. For modern visitors, the Movie Under the Stars series is a great way to enjoy timeless classics while enjoying a night of family fun on the LBJ Ranch—just like friends of the Johnsons experienced.    
Guests are encouraged to bring lawn chairs, blankets, and refreshments. The program is offered free of charge. Entry to the LBJ Ranch is located north of US Highway 290, just off of Ranch Road 1. Parking is located near the movie site. In case of inclement weather, call 830-644-2396 for updates on possible postponement.
The LBJ Ranch hangar visitor center will be open during the evening. Visitors are welcome to explore the interactive exhibits and shop the Western National Parks Association sales outlet. A movie trivia contest will precede the film.
Lyndon B. Johnson National Historical Park is open seven days a week from 9:00 am to 5:00 pm. For more information call 830-868-7128 ext. 231 or 244, or visit www.nps.gov/lyjo and www.facebook.com/LBJohnsonNPS.
More than 20,000 National Park Service employees care for America's 417 national parks and work with communities across the nation to help preserve local history and create close-to-home recreational opportunities. Visit us at www.nps.gov, on Facebook www.facebook.com/nationalparkservice, Twitter www.twitter.com/natlparkservice, and YouTube www.youtube.com/nationalparkservice. For more information on the NPS Centennial visit www.nps.gov/subjects/centennial/index.htm.
Last updated: September 20, 2018