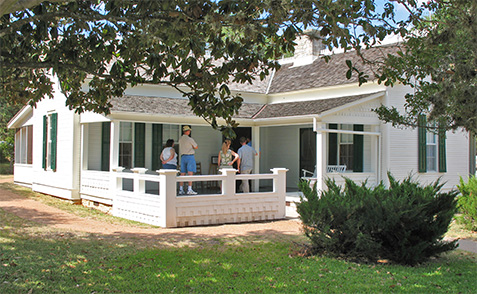 News Release Date:
December 14, 2014
Contact: Mike Ryan, (830) 385-5338
Johnson City, Texas –Lyndon B. Johnson National Historical Park has announced that President Johnson's boyhood home in Johnson City will be closed for public tours for three weeks beginning on Monday, January 5 and ending on January 23, 2015. The park is temporarily closing the home in order to complete necessary preservation work. During the closure wallpaper will be replaced in three rooms in the house: the dining room, the entry hallway, and the parents' bedroom. Completion of this project will require the removal of furnishings and blocking off the main access route of the public tours.
Also, beginning January 5 and continuing until approximately January 16, the visitor center in the historic LBJ Ranch hangar building will be undergoing electric system work. While this work is going on the building will be open and park rangers will be distributing tickets from the hangar for the Texas White House tours. However, since the hangar will be powered by a generator during those two weeks, some of the exhibits and electric lights will not be functioning.
All other park facilities will be open to the public in January, including the Johnson Settlement and the park visitor center in Johnson City and the LBJ Ranch and the Texas White House near Stonewall.
Lyndon B. Johnson National Historical Park is open seven days a week from 9:00 am to 5:00 pm. The park will be closed on December 25 and January 1. For more information call 830-385-5338, 830-868-7128 ext. 231 or 244, or visit www.nps.gov/lyjo and www.facebook.com/pages/Lyndon-B-Johnson-National-Historical-Park.