Date:
August 16, 2009
Contact:
Sherry Justus
, 830-868-7128 ext 245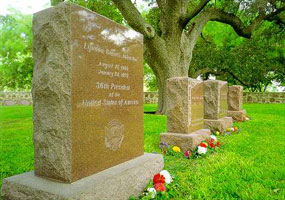 Lyndon B. Johnson National Historical Park will celebrate the 101st anniversary of President Johnson's birth on Thursday, August 27. This free celebration begins at 10:00 a.m. with the laying of a wreath on his gravesite in the Johnson family cemetery on the LBJ Ranch. The wreath will be placed by representatives from Randolph Air Force Base in San Antonio, followed by remarks by Colonel Jackie Van Ovost.
After the ceremony, and throughout the day, Lyndon Johnson's reconstructed birthplace will be open for public tours. A special treat will be the appearance of actor Michael Stuart, portraying President Johnson as he reads excerpts from Johnson's 1971 book, The Vantage Point. The president autographed copies of his book from time to time on the birthplace porch and also gave visitors tours of the house.
In the ranch airplane hangar, a new exhibit will be unveiled for the first time on August 27. Entitled "A More Abiding Commitment to Freedom: LBJ's Civil Rights Legacy," this permanent exhibit will draw parallels between the civil rights struggles and legislative milestones of the twentieth century and the ongoing progress and promise that has resulted  in this century.
In addition, the "Texas White House," President and Mrs. Johnson's home on the ranch, is now open for touring four downstairs rooms, the presidential office, the living room, the dining room and the kitchen. Tours begin in the airplane hangar/visitor contact station and cost $1.00.
Lyndon B. Johnson State Park and Historic Site, the national historical park's partner since the 1970s, will honor the late president with free refreshments and offer traditional children's games and amusements at the Sauer-Beckmann Farm. The state park visitor center, just off U.S. Highway 290, 14 miles west of Johnson City or one mile east of Stonewall, is where visitors to either park can pick up a free vehicle permit, map and CD in order to tour the LBJ Ranch in their own private vehicles.
For more information on this and other park events, view www.nps.gov/lyjo or call (830) 868-7128, ext. 231 or 244.