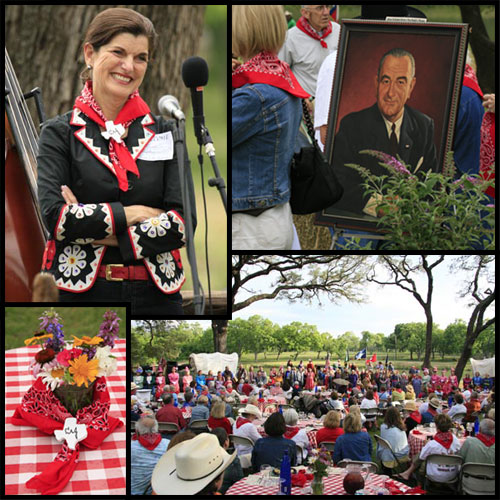 News Release Date:
September 23, 2016
Contact: Dave Schafer, 830-868-7128 ext. 235
STONEWALL, TEXAS –Put on your dancing boots and head over to the LBJ Ranch on Saturday, October 22, for the annual"Barbecue on the Pedernales." Co-hosted by the National Park Service and Friends of Lyndon B. Johnson National Historical Park, this event continues a Johnson family tradition of Texas hospitality. Country music recording artist Tracy Byrd will headline the night's entertainment and The Salt Lick will serve its famous mouth-watering barbecue. Hot Texas Swing Band will start the show and get everyone dancing with their blend of traditional western swing and original rockabilly sounds. Tickets are $75.00 per person (children 12 and under are $15.00) and can be obtained at www.barbecueonthepedernales.com. Tables for eight are available. Tickets are limited and have sold out quickly in past years. The event will run from 5:00 to 9:00 pm.
Tracy Byrd, a native of Vidor, Texas, burst onto the country music scene in 1993 with his first Number One song "Holdin' Heaven." His career was initially launched with a recording of "Your Cheatin' Heart" made at a shopping mall recording studio. Shortly afterward, Byrd did well in a talent show and began pursuing a musical career. Since his debut album in 1993, Byrd has released other hit songs and eight more studio albums. Among other honors, his song "The Keeper of the Stars" was nominated for the Country Music Association's Single of the Year in 1995. Tracy Byrd lives in Beaumont, Texas, with his wife and three children.
In the 1950s and 1960s, Lyndon and Lady Bird Johnson hosted large Texas-style barbecues along the Pedernales River in a grove of trees near their home. At these events hundreds of guests dined on delicious barbecued ribs and brisket smoked over pits in the grove. "All the world" was welcome at these western galas as guests-of-honor hailed from such places as Mexico, West Germany, Pakistan, and from nations throughout Latin America. The National Park Service and Friends of Lyndon B. Johnson National Historical Park are proud to continue this tradition.
The Friends of Lyndon B. Johnson National Historical Park is a vital not-for-profit park partner that provides funding for many of the park's critical preservation projects, educational events, and interpretive exhibits. The annual "Barbecue on the Pedernales" is a highly anticipated fundraising event for the group. For more information and to learn how to become a member, visit www.friendsoflbjnationalpark.org.
Lyndon B. Johnson National Historical Park is open seven days a week from 9:00 am to 5:00 pm. For more information call 830-868-7128 ext. 231 or 244, or visit www.nps.gov/lyjo and www.facebook.com/LBJohnsonNPS.
More than 20,000 National Park Service employees care for America's 413 national parks and work with communities across the nation to help preserve local history and create close-to-home recreational opportunities. Visit us at www.nps.gov, on Facebook www.facebook.com/nationalparkservice, Twitter www.twitter.com/natlparkservice, and YouTube www.youtube.com/nationalparkservice. For more information on the NPS Centennial visit www.nps.gov/subjects/centennial/index.htm.