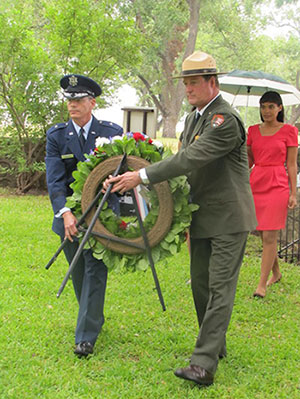 News Release Date:
August 13, 2015
Contact: Terry Sentell, (830) 868-7128 x 231
STONEWALL, TEXAS –Lyndon B. Johnson National Historical Park will celebrate the 107th anniversary of President Johnson's birth with a 10:00 am ceremony on Thursday, August 27. Continuing a tradition begun by Lady Bird Johnson, a wreath will be placed at the president's gravesite on August 27 in the Johnson family cemetery on the LBJ Ranch. Representatives from the National Park Service and the US military will place the wreath. Following this presentation, Col. Mark A. Lee will provide remarks about President Johnson's legacy. Colonel Lee is Vice Commander and Deputy at Joint Base San Antonio, and he will speak on behalf of the 502nd Air Base Wing.
Frank Wolfe will be a second featured speaker. As a young White House photographer during the 1960s, Mr. Wolfe witnessed many landmark events at close range as he photographed President Johnson at a wide variety of activities. Mr. Wolfe moved to Texas after Lyndon Johnson left office in 1969. While supervising the audio-visual collections at the LBJ Presidential Library, Wolfe captured many images of former President and Mrs. Johnson that have been widely used in films, exhibits, and publications. Mr. Wolfe will provide insights into his memorable years of watching history-in-the-making with Lyndon and Lady Bird Johnson.
Vocal performances have long been a part of the annual August 27 event. Laurie Jenschke will be this year's featured vocalist. She has 30 years of experience as a choral director, and is currently serving as the Director of the Community Music School at the Texas Lutheran University School of Music in Seguin, Texas.
Self-guided tours of the LBJ Ranch and guided tours of the Johnson family's "Texas White House" will begin after the 10:00 ceremony ends. Visitors obtain tickets for the Texas White House tour in the airplane hangar/visitor center. Fees for the tour are normally $3.00 for persons 18 and older, but fees will be waived on August 27. To view the 10:00 ceremony, visitors should stop first at Lyndon B. Johnson State Park and Historic Site located just off U.S. Highway 290, 14 miles west of Johnson City. Visitors can pick up a free vehicle permit and map in order to tour the LBJ Ranch in their own vehicles. Visitors can purchase a CD that will provide them with a narrated tour of the ranch. For information on activities at the state park visit: http://tpwd.texas.gov/calendar/lbj2019s-107th-birthday-celebration.
Lyndon B. Johnson National Historical Park is open seven days a week from 9:00 am to 5:00 pm. For more information call 830-868-7128 ext. 231 or 244, or visit www.nps.gov/lyjo and www.facebook.com/LBJohnsonNPS
More than 20,000 National Park Service employees care for America's 408 national parks and work with communities across the nation to help preserve local history and create close-to-home recreational opportunities. Visit us at www.nps.gov, on Facebook www.facebook.com/nationalparkservice, Twitter www.twitter.com/natlparkservice, and YouTube www.youtube.com/nationalparkservice.