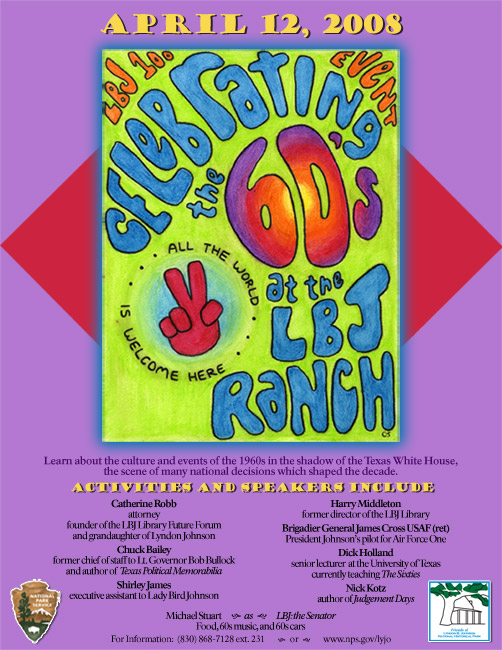 News Release Date:
March 30, 2008
Contact: Sherry Justus, 830-868-7128 ext. 245
Lyndon B. Johnson National Historical Park will host the first-ever "Celebration of the 1960s" on Friday and Saturday, April 11 and 12, to be held on the LBJ Ranch. Authors, educators, and experts on the tumultuous decade will gather for lectures, reminiscences and book signings in an exploration of Lyndon Johnson's legacy in the field of education and a look back at the decade's significance.
The Friday events provide a unique educational experience for regional high school students. The presenters include Nick Kotz, author of Judgment Days: Lyndon B. Johnson, Martin Luther King Jr. and the Laws that Changed America; Tom Striegler, U.S. Army artillery captain during the Vietnam War; Harry Middleton, former director of the LBJ Library and Museum (author of LBJ: the White House Years); Douglas Brinkley, author of numerous books including The Majic Bus: An American Odyssey; and Shirley James, Lady Bird Johnson's executive assistant. Part of the immersive experience will be music of the period and a display of 1960s cars, and students are encouraged to dress in fashions of the decade to really get in the spirit of the times. Teachers are encouraged to make advance reservations for their students by calling (830) 868-7128, extension 231.
On Saturday, the public is invited to come to the LBJ Ranch for a full day of events beginning with a 9:00 a.m. ceremony commemorating the signing of the Elementary and Secondary Education Act of 1965 at the Junction School, where young Lyndon Johnson received his first formal education. The activities then move to the Texas White House where topics such as civil rights and Lyndon Johnson's role in shaping the 1960s will be considered by speakers with firsthand knowledge of the period and the president. Among the speakers will be James Cross, President Johnson's Air Force One pilot, Dick Holland, senior lecturer on the history and culture of the 1960s at the University of Texas at Austin, Catherine Robb, granddaughter of the late president and first lady, as well as Mr. Kotz, Mr. Middleton and Ms. James. Those who have authored books will sign them after the presentations.
Two other new special events will take place on the LBJ Ranch in April: the LBJ 100 Bicycle Tour on April 19 and the LBJ Ranch Cycling Weekend, in observance of National Park Week, on April 26-27. For further information about these events, please visit www.lbj100.org or call (830) 868-7128, ext. 231.