Virtual Visits
Tour the Vassall-Craigie-Longfellow House from your couch, find creative activities for whole family, and connect with us during live virtual events. Check out the many ways to explore Longfellow House-Washington's Headquarters National Historic Site from home!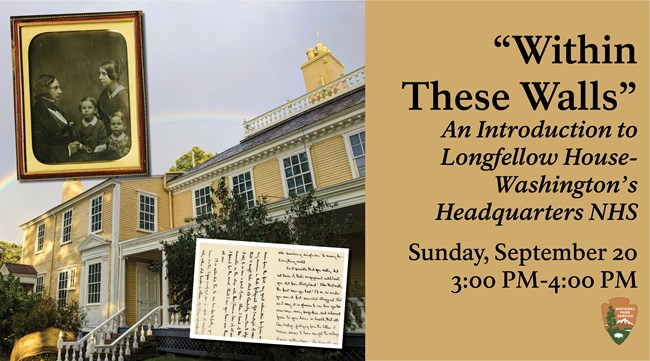 "Within These Walls:" An Introduction to Longfellow House-Washington's Headquarters NHS
Sunday, September 20 @3:00 PM
What does a home reveal about its occupants, and about our shared history? Join a ranger for a live virtual conversation about the remarkable history of the Vassall-Craigie-Longfellow
House. This site bears witness to the history of slavery in New England and the early free Black community of Cambridge, and George Washington's development as a leader. It was a 19th century hub of literary life and abolitionism, a site of remarkable women's history and art history, and reveals what some LBGTQ folks experienced over 100 years ago. What stories will resonate with you? Free, online, and open to all;
register here
.
Search Filters
By Park
By State/Territory
By Event Type
Last updated: September 11, 2020