News Release
2021 Virtual Fall Lecture Series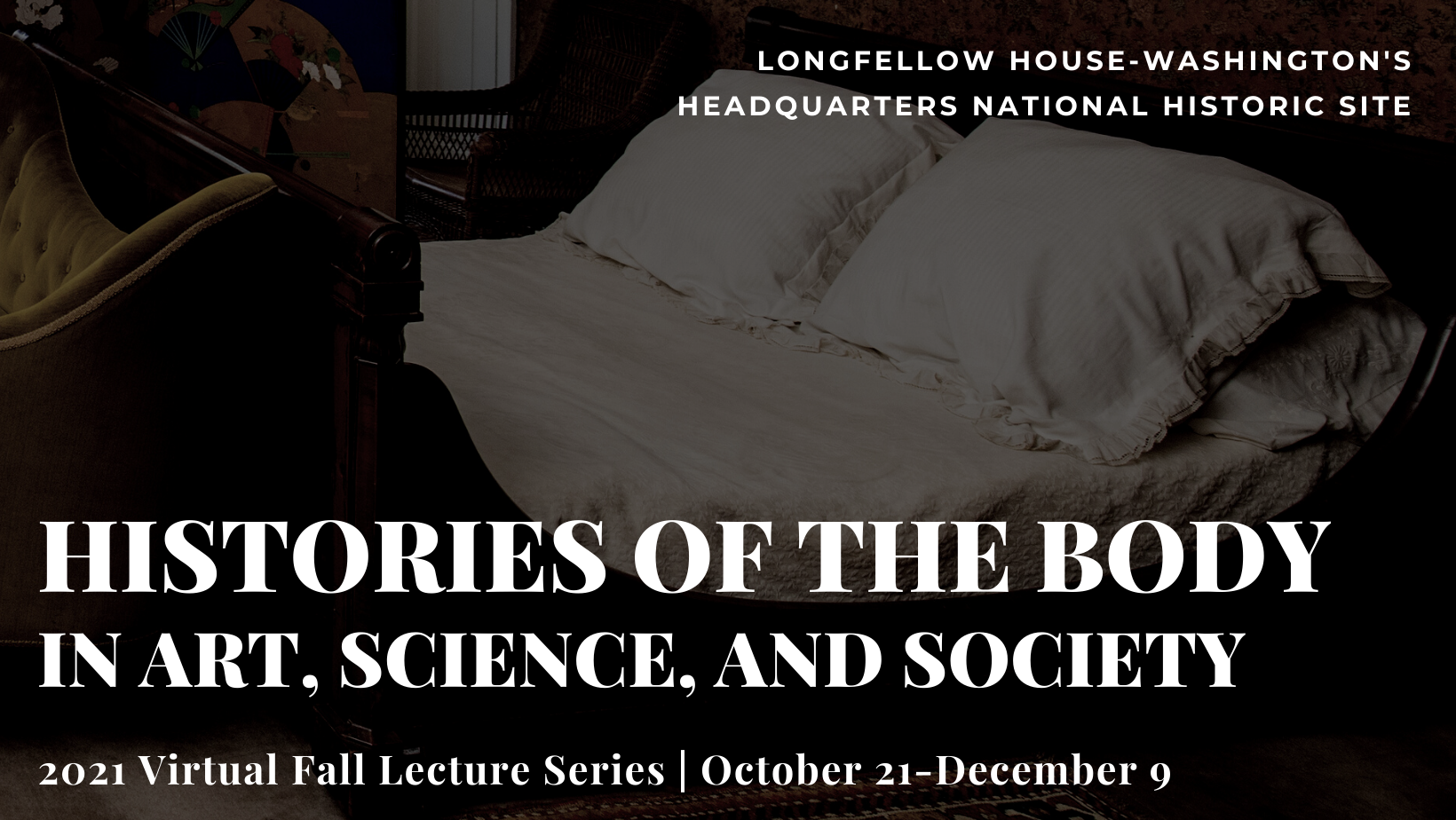 News Release Date:
October 13, 2021
Contact: Emily Levine, 617-876-4491 x11
Public conversation around health, science, and the body are nothing new; in the 19th century the Longfellows and their social circle engaged with the discourse of their day. Join Longfellow House-Washington's Headquarters National Historic Site and the Friends of the Longfellow House-Washington's Headquarters for our 2021 Virtual Fall Lecture series featuring historians, scientists, and poets. The series will trace the site's intersections with broader stories of early anesthesia, disability history, medicine and literature, the body in art, slavery and illness, and more.  
Click here for more information and registration.
The series begins October 21 with local author Tegan Kehoe in conversation with site archivist Kate Hanson Plass on "Fanny Longfellow's 'Ethereal Baby' and her Moment in the History of Medicine." Kehoe will discuss her forthcoming book, Exploring American Healthcare through 50 Historic Treasures, with an emphasis on mid-nineteenth century attitudes towards childbirth – including Fanny Longfellow's unprecedented decision to use ether anesthesia in childbirth the following year – and the diseases that touched the Longfellow family. 
On October 28 at 7:00 PM, Longfellow House ranger Meaghan Michel will present "The Queer History of Dracula" in partnership with The History Project. "Throughout history, the vampire has represented a number of fears that plague a society," Michel says. "The vampire of the 19th century, who can only come out under the cover of darkness and who inspires both repulsion and attraction, stands as a metaphor for society's own anxieties with homosexuality." 
The series continues November 12 with MIT biologist Sheena Vasquez, poet Danielle Legros Georges, and Poetry of Science project founder Joshua Sariñana. Poetry of Science is a Cambridge initiative that paired poets and scientists of color. Vasquez and Legros Georges will read from and discuss their poetic collaboration as it relates to histories of the body, and examine additional poetry and perspectives on the Black female body. 
On November 18, Rutgers University public historian Nicole Belolan will examine "Disability at Home in Early America." "I am fascinated by questions such as, what was the lived experience of disability?", writes Belolan. "And, where were people with disabilities in everyday life?" She will discuss objects people used at home (including at the Longfellow House) before the era of a formalized assistive technology industry, and provide insight into the history of disability history itself. 
Physician, literary historian, and director of the Georgetown Medical Humanities Initiative Lakshmi Krishnan will present "Medical Flâneurs: Cosmopolitan Paris and the American Clinical Imagination" on November 22. She'll explore how Paris worked its way into American medicine and letters through writers who were fascinated by the darkness and promise of clinical sciences. They imagined Paris as a center of medicine and language, and used it as a mirror to explore their own local anxieties and tensions.  
The series continues on December 2 with David Odo, Director of Academic and Public Programs and Research Curator at the Harvard Art Museums. Odo will discuss "Flesh and Fantasy: The body in early Japanese photography." Charles Longfellow, Isabella Stewart Gardner, and others collected Japanese photography in the late 19th century during a craze for "things Japanese." Odo will examine how foreign interest in collecting images of bodies operated through a lens of fantasy. 
The series concludes on December 9 with Princeton postdoctoral fellow Elise A. Mitchell, whose research examines enslaved Africans' responses to smallpox epidemics and how they endured and contested European medical interventions in the early modern Atlantic World. More details coming soon. 
---
Talks will take place on Zoom from 6:00 PM -7:00 PM ET and are free and open to all. To register, please visit https://bit.ly/historiesofthebody.
Longfellow House-Washington's Headquarters National Historic Site preserves the home of Henry Wadsworth Longfellow, one of the world's foremost 19th century poets. First built in 1759, this remarkable house bears witness to the history of slavery in New England, served as George Washington's Headquarters during the Siege of Boston, was a 19th century hub of literary and artistic life, and reveals LGBTQ+ experiences in the 19th and early 20th centuries. Visit www.nps.gov/longfellow to learn more. 
Last updated: October 13, 2021