News Release
2020 Virtual Fall Lecture Series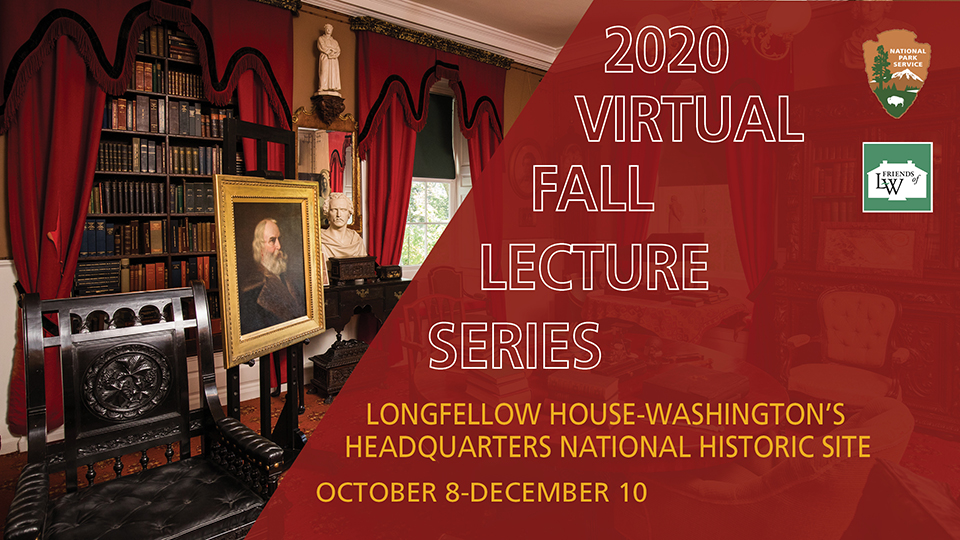 News Release Date:
September 28, 2020
Contact: Emily Levine, (617) 999-7696
The National Park Service and Friends of the Longfellow House-Washington's Headquarters announce the 2020 Fall Lecture Series, which will take place virtually. This year's eight-part series examines social change through the lens of historical activism, politics, and the arts. Featured speakers include historians, poets, and artists whose work resonates with the unique history of the site.  
Talks will take place live online on Thursday evenings from 7:00 PM-8:00 PM unless otherwise noted, from early October through December. Each event is free and open to all. To register, please visit http://bit.ly/2020-fall-lectures. More information on each lecture can be found at https://www.nps.gov/long/planyourvisit/fall-lecture-series.htm. 
Henry Wadsworth Longfellow's home at 105 Brattle Street was a place of literary, artistic, and intellectual gathering in the 19th century. Today, the Fall Lecture Series honors this history by bringing community members together in conversation with historians, poets, and artists. 
Scheduled Programs 
October 8: "Activism Begins at Home": Putting the Cambridge Suffrage Movement in Conversation with the History of Women's Suffrage 
Susan Ware, author of Why They Marched: Untold Stories of the Women Who Fought for the Right to Vote (The Belknap Press of Harvard University Press, 2020)   
October 18 @3:00 PM: Translating Migrations as Poetic Act 
Rajiv Mohabir, poet and author of The Cowherd's Son (Tupelo Press, 2017)  
October 29: "The Factory of Genocide:" Carcerality and Confinement on Boston Harbor's Deer Island 
Mary McNeil, author of the forthcoming dissertation 'To Make A Political Place for Ourselves': Black Power and Red Power Claims to Boston (Harvard University) 
November 5: Female Husbands and the Expansion of Policing in the 19th Century 
Jen Manion, Author of Female Husbands: A Trans History (Cambridge University Press, 2020) 
November 12: George Washington, Councils of War, and the Formation of the President's Cabinet 
Lindsay Chervinsky, Author of The Cabinet: George Washington and the Creation of an American Institution (The Belknap Press of Harvard University Press, 2020)   
November 19: The Slave Narrative of Willie Mae 
Ifé Franklin, Artist and Author of The Slave Narrative of Willie Mae (Wildheart Press, 2018) 
December 3: Photography, Slavery, Agency 
Matthew Fox-Amato, co-author and Ilisa Barbash, co-editor/co-author of To Make Their Own Way in the World: The Enduring Legacy of the Zealy Daguerreotypes (Aperture, 2020) 
December 10: Walt Whitman, Race, and the Civil War 
Mark Doty, Poet and Author of What Is the Grass: Walt Whitman in My Life (Random House, 2020) 
---
Longfellow House-Washington's Headquarters National Historic Site preserves the home of Henry Wadsworth Longfellow, one of the world's foremost 19th century poets. First built in 1759, this remarkable house bears witness to the history of slavery in New England, served as George Washington's Headquarters during the Siege of Boston, was a 19th century hub of literary and artistic life, and reveals LGBTQ+ experiences in the 19th and early 20th centuries. Visit www.nps.gov/longfellow to learn more. 
Last updated: September 28, 2020