About the Region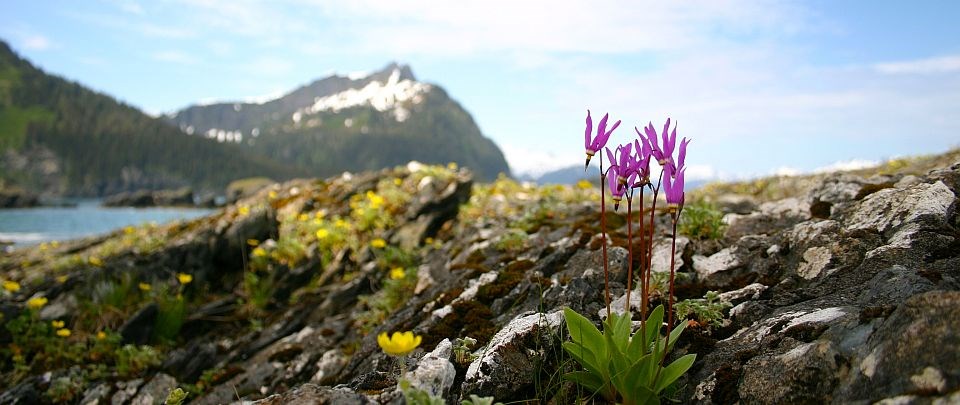 Alaska is expansive and diverse. Its magnitude is difficult to comprehend, but its rewards are many. For climate and topography, the "Great Land" constitutes a virtual subcontinent. From arctic tundra to lush boreal forests and thriving coastal ecosystems, Alaska's landscapes span vastly different
ecoregions
and biological communities. Within this vast landscape, Alaska hosts
15 national parks, preserves, monuments and national historical parks
. Much of this land is protected as
wilderness
, and altogether these unique landscapes make up about 30 percent of the nation's wilderness areas. Additionally, the National Park Service plays varying roles in the administration of
13 national wild rivers
, two affiliated areas and a national heritage area. Alaska is also home to 50 National Historic Landmarks, 16 National Natural Landmarks, four Public Lands Information Centers and two Science and Learning Centers.
National Park Service staff in Alaska work every day to connect people to their parks and preserves while protecting the dynamic resources of this beautiful land. The spirit of the National Park Service doesn't stop at park boundaries- our programs work closely with communities across the state to bring educational programs to schools, restore historic buildings, create outdoor recreation opportunities, and so much more. Together, we strive to uphold the natural and cultural legacy of this unique American landscape through the park areas and programs we manage. To learn more about the mission of the National Park Service, visit the
National Park Service About Us
page.
Much of this great network of public lands owes its existence to the creation of the
Alaska National Interest Lands Conservation Act
(ANILCA) of 1980. ANILCA established 104 million acres of federal land in Alaska as new or expanded conservation system units- among this land was:
10 National Parks and Preserves
2 National Monuments
9 National Wildlife Refuges
2 National Conservation Areas
25 Wild and Scenic rivers
The act nearly doubled the size of the entire US national park system, adding 56 million acres of wilderness. Today, about 60 percent of all land managed by the National Park Service is in Alaska.
Curious what defines a national park, preserve, or monument? Learn more about
NPS land designations
and how they differ.
Looking for a specific office or park employee? Find information on our individual park websites, or our
Alaska Regional Office website
.
Last updated: September 25, 2023