Living History Demonstrations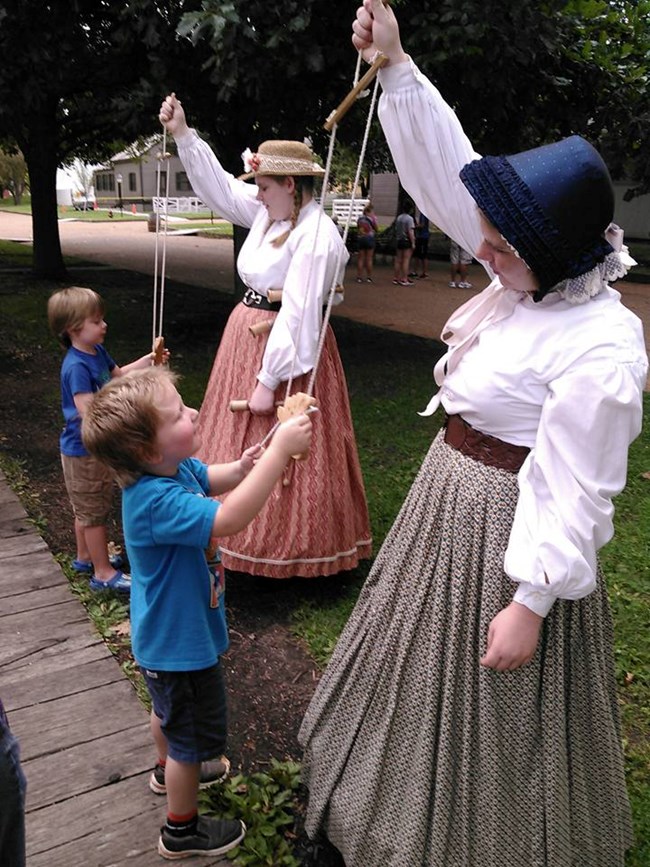 Lincoln Home National Historic Site offers special events and programs to the public throughout the year. During Living History demonstrations, Living History reenactors dress in period clothing, perform historical demonstrations such as laundry and toy demonstrations, answer visitor questions, and lead other interpretive programs and activities.
History Comes Alive: June 3, 2022 - August 7, 2022

For the 2022 summer season, History Comes Alive is filled with special experiences and programs about Lincoln's community.

Toys and Games with National Park Service Rangers
Learn about and play historic games with a ranger.
Stories from Lincoln's Springfield
Rangers share their favorite stories of the Lincoln family, Springfield, and the time period.
Tempering Temperance: Alcohol in the 1800s
A performance with 1800s costumed interpreters about the temperance movement, which focused on limiting or ending the consumption of alcoholic beverages.
Freedom Seekers Stories of the Underground Railroad
A performance with costumed interpreters about the Underground Railroad.
Soothing Syrups: 1800s Medicine
A performance with costumed interpreters focusing on medicine in the 1800s.
Mary and Abraham Lincoln in the Lincoln Neighborhood
Mary and Abraham Lincoln are taking a walk around the historic area, stop and say hello!
History Cooks! Food of Lincoln's Springfield
Learn and sample the foods the Lincoln family would have eaten and prepared with the Lincoln Land Community College Culinary Arts Program.

For more information about these events and others, visit the event calendar and Lincoln Home's Facebook page.

If you would like to learn more about what it was like to live during Lincoln's era, we also encourage you to check out our History & Culture pages.
Last updated: May 25, 2022